Tiffany Hodge '02 Continues "Mission Spanning the Globe"
August 19, 2008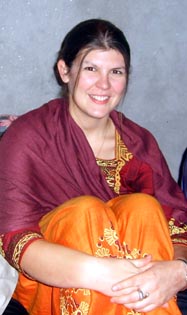 August 19, 2008, Greencastle, Ind. - "It's very important to me that what I study and what I do not be seen in terms of an ideological project," Tiffany Hodge tells the Evansville Courier & Press of her Fulbright U.S. Student scholarship. The grant is allowing Hodge -- a 2002 graduate of DePauw University and now a doctoral candidate at Emory University -- to travel to Char Fasson in southern Bangladesh in October to spend nine months conduct research in Islamic studies.
She tells the newspaper, "What I'm doing, I'm hoping, will be a complex picture of what it means to be a Muslim in a rural area and what it means to be a Muslim under Islamic law."
In Bangladesh, Hodge will conduct dissertation fieldwork on Islamic law in rural areas and its influence in the lives of rural Bangladeshi women. (at right: Hodge with the Hossain family in Char Fasson, May 2005)
"Hodge, a 1998 North High School
graduate, was raised Christian," writes the Courier & Press' Susan Orr. "In January 2001, when she was an undergraduate at DePauw University, she traveled to Char Fasson to spend a month working at an orphanage there. Bangladesh is a mostly Muslim nation, so while Hodge was there, she observed the five daily calls to prayer and other aspects of Islam that were woven into the culture."
Hodge double-majored in religious studies and history and minored in economics at DePauw. While a student here, she and Nicole Hallett '03 created the Bangladesh Children's Educational Endowment, with a goal of helping impoverished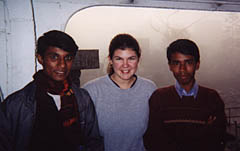 Bangladesh youths attend college.
Hodge tells the newspaper, "It's just a very different experience. (In the U.S.), we're not used to religion being part of the sights and sounds of our daily lives."
Orr adds, "The Sept. 11 terrorist attacks and the resulting scrutiny of Islam confirmed her interest in studying the religion. In Bangladesh, she had seen Islam as one of a complex variety of factors that affected people's lives, and she had met strong and independent Muslim women. But especially after the terrorist attacks, Hodge said, she observed that Islam was presented in simplistic ways that didn't ring true to her. 'There's a lot of negative (news) coverage that just didn't reflect what I had seen in Bangladesh in January of that year ... The experience of Sept. 11 and after that really helped me figure out where to focus my energy.'"
Read the complete article, headlined
"Student on mission spanning the globe," at the Courier & Press' Web site.
Tiffany Hodge is one of six members of the DePauw community to receive a 2008-09 award through the Fulbright application process. Learn more in this previous story.
DePauw was among the "Top Producers of Fulbright Awards for U.S. Students, 2007-08" according to a chart published in the October 26, 2007 edition of the Chronicle of Higher Education. The University continues to be one of the top colleges in the United States for the percentage of students who study abroad, according to Open Doors 2007, a report by the Institute of International Education.
Back