Tiffany Hodge '02 Will Conduct Research in Bangladesh with Fulbright Award
July 5, 2008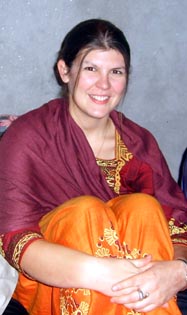 July 5, 2008, Greencastle, Ind. - Tiffany Hodge, a research assistant and third-year doctoral candidate at Emory University and 2002 graduate of DePauw University, has been awarded a Fulbright U.S. Student scholarship. The grant will allow Hodge -- who also earned a masters degree in religious studies from Indiana University in 2007 -- to travel to Bangladesh during the 2008-09 academic year to conduct research in Islamic studies.
Hodge is the sixth member of the DePauw community to receive an award through the Fulbright application process. Kathryn A. Haklin, a 2008 graduate of the University, will spend the coming academic year on a teaching assistantship in France as a result of receiving an international graduate study and research grant from the French government and the Institute of International Education (IIE). Seth C. Elder, another May 2008 graduate, will study and conduct research in Macedonia. A third member of the Class of 2008, Eric M. Reese, will spend a year in South Korea teaching English to young people. Elin P. Raun, a 2004 alumna of the University, will travel to Estonia for a research project, "The Return of Estonia's Diaspora." Michele T. Villinski, James W. Emison III Director of the Robert C. McDermond Center for Management and Entrepreneurship and associate professor of economics and management at DePauw University, will have the opportunity to spend

the upcoming year teaching environmental and natural resource economics and policy at Universitas Surabaya (UBAYA) in Surabaya, Indonesia.
"I'm excited to return to Char Fassion, Bangladesh, to conduct my dissertation fieldwork on Islamic law in rural areas and its influence in the lives of rural Bangladeshi women," says Hodge, who expects to earn her Ph.D. in 2010 from Emory's graduate division of religion: West and South Asian religions. "I am fortunate to return to the orphanage that I first visited in January 2001 as a DePauw student on a Winter Term in Service. The children and staff at the Char Fassion orphanage continue to remember and ask about the DePauw team, and they have warmly welcomed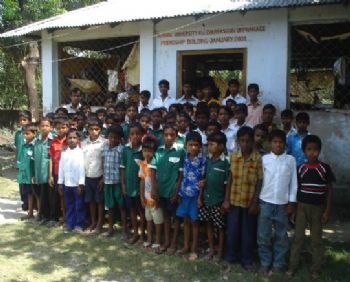 me back into their lives for the next year." (at left: a 2008 photo of children in front of the building the DePauw team constructed seven years ago)
At DePauw, where she was a member of Phi Beta Kappa and graduate summa cum laude, Tiffany Hodge double-majored in religious studies and history and minored in economics. Her senior thesis was entitled, "Politics of Religious Conversion: Pakistani Justifications for War against the Bengali Muslims." While a student here, Hodge and Nicole Hallett '03 created the Bangladesh Children's Educational Endowment, with a goal of helping impoverished Bangladesh youths attend college.
In the six years since she earned her undergraduate degree, Hodge has taught at DePauw, Indiana and Emory; served as a research assistant at both IU and Emory; been a researcher for the Center for Torture and Trauma Survivors; presented papers at the November 2007 annual meeting of the American Academy of Religion and a Spring 2007 Islamic Studies Conference at Emory; presented guest lectures at Spelman College; and has conducted research and interviews in Bangladesh periodically between 2004 and the present.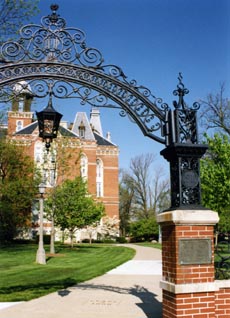 Among other awards, Hodge received a dissertation fellowship from the American Institute of Indian Studies (2008-09); a junior fellowship from the American Institute of Bangladesh Studies (2008-09); a graduate fellowship from Emory's Institute for Comparative and International Studies Graduate Fellowship (2007-2008); a FLAS award for study of Urdu (Summer 2006); and a religious studies fellowship from Indiana University (2002-03).
Fulbright U.S. Student Program grants aim to increase mutual understanding among nations through educational and cultural exchange while serving as a catalyst for long-term leadership development. The program currently awards approximately 1,500 grants annually in all fields of study, and operates in more than 155 countries worldwide. Fulbright full grants generally provide funding for round-trip travel, maintenance for one academic year, health and accident insurance and full or partial tuition.
Since its inception in 1946, the Fulbright Program has provided more than 286,000 participants, chosen for their leadership potential, with the opportunity to observe each others' political, economic and cultural institutions, exchange ideas, and embark on joint ventures of importance to the general welfare of the world's inhabitants. Recipients have included 108,160 Americans who have studied, taught or researcher abroad and 178,340 students, scholars
and teachers from other countries who have engaged in similar activities in the United States. Learn more by clicking here.
To contact Dr. Harms, the recipient of a Fulbright Award for the 2004-05 academic year, send an e-mail to dharms@depauw.edu.
DePauw was among the "Top Producers of Fulbright Awards for U.S. Students, 2007-08" according to a chart published in the October 26, 2007 edition of the Chronicle of Higher Education. The University continues to be one of the top colleges in the United States for the percentage of students who study abroad, according to Open Doors 2007, a report by the Institute of International Education.
Back