Pollster Scott Rasmussen '86 Has Yet to See Convention Bounce for Barack Obama
August 28, 2008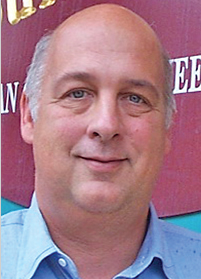 August 28, 2008, Greencastle, Ind. - "More Republicans support McCain than Democrats support Obama," Scott Rasmussen, president of Rasmussen Reports and 1986 graduate of DePauw University, tells the Boston Herald. Rasmussen's latest national poll, updated daily, shows Democrat Barack Obama leading Republican John McCain by a slim point -- 45% to 44%. The two candidates are deadlocked at 47% each when voters who were leaning toward a candidate are factored in.
The Herald's Hillary Chabot writes, "Obama and McCain are neck and neck in the national polls despite three
days of glowing speeches about the Illinois senator during a highly publicized convention viewed by 22 million people."
Rasmussen tells the newspaper that Democratic speakers haven't spent enough time criticizing McCain during this week's convention. "I think it is possible that McCain people will start out (at the convention) drawing contrasts with Obama," he says.
Access the story at the Herald's Web site.
Scott Rasmussen and his father Bill, a 1954 graduate of DePauw, co-founded ESPN. Learn more in this previous article.
Back