Prof. Rick Musser '69 to Discuss Media's Challenges in Mississippi Speech
September 14, 2008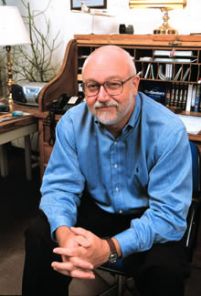 September 14, 2008, Greencastle, Ind. - "Local students and residents on Monday will get a chance to learn from a longtime journalist and media professor how different forms of media are converging into a single digital medium" notes a story in the Commercial Dispatch of Columbus, Mississippi, previewing a speech by a 1969 DePauw University graduate. "Rick Musser, a research professor at the University of Kansas, will spend the day at Mississippi University for Women discussing his thoughts on the future of media outlets in an increasingly digital world," reports the newspaper.
"Dr. Musser will be speaking about changes happening in the media industry today and how the industry is being impacted by technology, economics and several other factors," says Martin Hatton, chair of MUW's department of communication. "He will also share how the industry is working to deal with those changes."
The article states, "Musser, a graduate of DePauw University and Indiana University, also served as the Clyde Reed Teaching Professor at the KU School of
Journalism and Mass Communications, where he was a teacher for 32 years. Before teaching, Musser held several journalism jobs at companies like American City Business Journals, the South Bend Tribune and the Wichita Eagle."
Access the full text at the publication's Web site.
Rick Musser was one of three DePauw alumni quoted in a recent Chicago Tribune story which examined media coverage of Republican vice presidential hopeful Sarah Palin.
Back