DePauw President Brian Casey Visits TV's Inside Indiana Business
September 14, 2008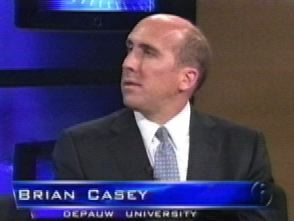 September 14, 2008, Greencastle, Ind. -

[Download Video: "The Road Leading to DePauw" - 2207kb] "I knew of DePauw from my time in Indiana, and I also knew of DePauw because you know about the great liberal arts colleges," the University's nineteenth president, Brian W. Casey, tells Inside Indiana Business with Gerry Dick of how he came to Greencastle from Harvard University. "What I found was a school that I think is on the verge of true national and international prominence. I think that there are a lot of spectacular pieces in place and I thought, wow, someone is going to come in here and just really take this place off."
Dr. Casey, who assumed the presidency of DePauw on July 1, was a guest on this weekend's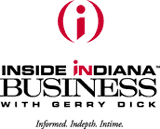 edition of the statewide television program, which is seen on more than a dozen stations in every Indiana TV market.

[Download Video: "Internationalization" - 912kb] Dick, the program's host, noted that DePauw attracts an increasingly "national and international student body," bringing talented students to Indiana to study and serve internships and, perhaps, to make the state their home following graduation. The University's freshman class includes a record 77 international students.

[Download Video: "An Interesting Transformation" - 972kb] "The other day I went out to dinner with some young alums in Indy," Casey stated, "and I would say a good half of them were South Asian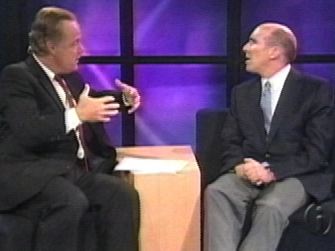 kids, kids from India, who are now staying in Indianapolis. So it's an interesting transformation."
The new president asserted,

[Download Video: "Telling DePauw's Story" - 1633kb] "If you look at every basic of excellence -- quality of the faculty, quality of students, quality of facilities -- DePauw should be ranked among the top 10 or 15 schools in the country. I think we just haven't told that story effectively enough. So one thing I'm going to do is not be apologetic or shy in that sort of Indiana way about our own excellence. I'm going to be out there telling the world about this jewel of a liberal arts college."
Access video of the complete segment at Inside Indiana Business.com or below.
Brian Casey will be formally installed as DePauw's new president on October 10. Information on the weeklong inaugural celebration and the webcast of the October 10 installation ceremony can be found in this recent story or on the inaugural Web page.
Source: Inside Indiana Business
Back