DePauw Theatre Presents World Premiere of Einstein and The Roosevelts by '57 Grads Nancy Ford & Gretchen Cryer
September 21, 2008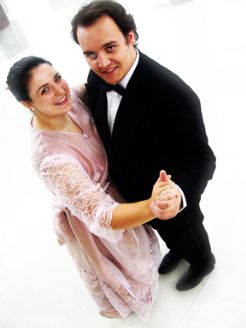 September 21, 2008, Greencastle, Ind. - The world premiere of a musical written by the Broadway award-winning team of Gretchen Cryer and Nancy Ford -- both 1957 graduates of DePauw University -- is the opening production of the 2008-09 DePauw Theatre season. Einstein and The Roosevelts, an inventive presentation of some lesser-known history of one of America's most influential couples, opens Friday, October 3, at 7:30 p.m. in Moore Theatre of the Judson and Joyce Green Center for the Performing Arts. Additional performances are October 4, 9 and 11 at 7:30 p.m., and Sunday, October 12 at 4 p.m. (at left: Caitlin Brown as Eleanor Roosevelt and Andrew Richardson as her husband, Franklin)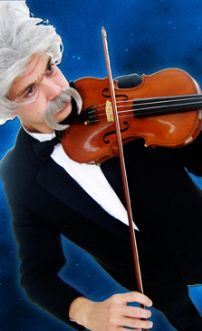 The musical is being presented as part of the inaugural week celebration, "Uncommon Success: DePauw in the World," and Old Gold Weekend.
The story of Einstein and The Roosevelts takes place at an after-life birthday party for Eleanor Roosevelt thrown in the cosmos by Alice Roosevelt Longworth, cousin to Franklin Roosevelt and daughter to President Theodore Roosevelt. Notoriously unconventional, Alice has invited Albert Einstein to entertain with his latest invention, a musical method for summoning up moments from the past. (pictured at right: Case Nafzinger as Einstein)
Given Alice's penchant for tomfoolery, it is no surprise that the guests include Earl Miller, Eleanor's dashingly handsome bodyguard; Lorena Hickok, a close confidante of Eleanor; Sarah Delano Roosevelt, Eleanor's mother-in-law and nemesis; Alice Mercer, personal secretary and long-time love interest o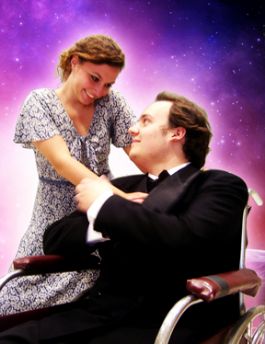 f Eleanor's husband President Franklin Roosevelt, who last but not least, is also an invitee. With the help of Einstein's violin, buried secrets regarding love, marriage, and politics are fully revealed and passionately wrestled with in this entertaining and educational blending of history and whimsy. (left: Andrea Krider, who plays Missy LeHand, with Richardson)
Despite the imaginative context, the musical is "not revisionist history," stresses director Andrew Hayes, associate professor of communication and theatre at DePauw. "No scholar would dispute the production's depiction of the relationships between Franklin and Lucy, Earl and Eleanor; and the letters between Eleanor and Lorena Hickok have a clear amorous tone."
With Einstein and The Roosevelts, Ford and Cryer have taken historical fact and shaped a compassionate presentation of the impressive personal challenges that face individuals who choose to spend their lives in the spotlight of public service.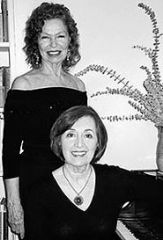 Composer Ford and lyricist Cryer have been collaborating since their first production, For Reasons of Royalty, created when they were students at DePauw University. Twenty years and several productions later they were winning Obie, Drama Desk and Outer Circle Awards in 1978 for their hit I'm Getting My Act Together and Taking It On The Road, which ran for three years on Broadway. The team has written musicals for The American Girl Company in New York City, Chicago and Los Angeles, and the longtime friends were recently tapped to create a musical of Anne of Green Gables for TheatreWorks USA, which had a successful New York run in 2007.
The connection to DePauw past and present extends throughout the entire cast and production team.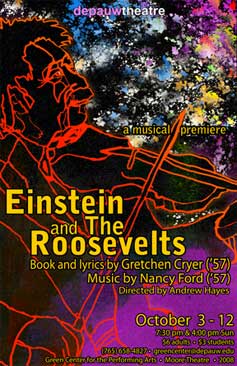 Cast members include DePauw students, faculty, and alumni, as well as Putnam County residents. Lindsay Adams, a 2006 DePauw graduate, returns from New York City to orchestrate the musical and serve as musical director. DePauw Theatre is enormously grateful to Jane Allison '37 whose generous donation to the production has allowed for set, costuming and music values above and beyond DePauw Theatre's normal capabilities.
Tickets for the production are $3 for students and $6 for adults, and are available for purchase at the Green Center's box office, which is open Monday, Wednesday and Friday from noon to 4 p.m., Tuesday and Thursday from 1-5 p.m., and one hour prior to show time.
Information and reservations are available by calling (765) 658-4827 or e-mailing greencenter@depauw.edu.
Available for purchase are DePauw Theatre patron passes. Purchasers are entitled to five tickets for the price of four. The passes are available at both student and adult price levels. To purchase or obtain additional information, contact the Performing Arts Center box office at the contacts listed above.
Learn more about Gretchen Cryer and Nancy Ford in this recent story.
Back