Prof. Harry Brown Authors Videogames and Education
October 1, 2008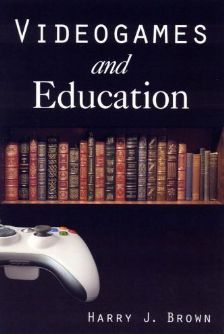 October 1, 2008, Greencastle, Ind. - Harry J. Brown, assistant professor of English at DePauw University, is the author of Videogames and Education: Humanistic Approaches to an Emergent Art Form. Published by M.E. Sharpe, the title is part of the History, Humanities and New Technology series.
The publisher's synopsis notes, "Videogames and education are not necessarily antithetical. In this mind-expanding work, Harry J. Brown shows how videogames have become a powerful form of political, ethical, and religious discourse that influences the way we teach, learn and create. He traces the major trends in game design, the public controversies surrounding videogames, and the major positions in game criticism. The book speaks to thoughtful eductors, parents, and players who seek a fuller understanding of this cultural phenomenon."
"For too long videogames have been seen as nothing more than a distracting competitor to education, intelligent thought, and art," opines Daniel Cohen, assistant professor of history and art history at George Mason University and the director of the Center for History and New Media. "In this comprehensive look at the nature and composition of videogames -- their often sophisticated methods of storytelling and surprising engagement with social issues -- Harry Brown uncovers a hidden history of gaming from its origins
to the present day that provides numerous insights into how videogames might, contrary to popular belief, actually instruct and even challenge us."
Bryan Alexander, director for research at the National Institute for Technology and Liberal Education (NITLE), adds, "Harry Brown's book is a milestone in academia's engagement with computer gaming. Brown synthesizes research and teaching in provocative, accessible, and deeply informed ways. Both practically sound and theoretically advanced, this belongs on the bookshelf of anyone in academia interested in what they can do with gaming's emergent world."
Learn more at the publisher's Web site, or order the book at Amazon.com.
Professor Brown previously authored Injun Joe's Ghost: The Indian Mixed-Blood in American Writing, which was published by University of Missouri Press.
Back