First Football Battle with Wabash Ends as 34-5 DePauw Triumph
November 22, 1890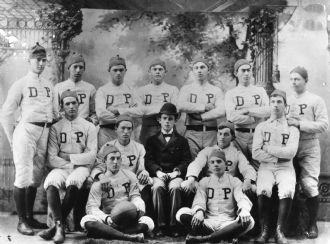 November 22, 1890, Crawfordsville, Ind. - A safety provided the initial scoring in the first-ever meeting between the football teams from DePauw University and Wabash College, and the men from Greencastle built on the early lead, rolling to a 34-5 win at the school 27 miles to the north. It marks the DePauw squad's first victory of the season after losses to both Purdue and Butler, in addition to a tie with the Butler team. (at left: DePauw's 1889 football team)
View a "Monon Memory" of the 1890 battle between the two teams that would become arch rivals -- featuring historic photos -- here:

[Download Video: "1890 Monon Memory" - 4409kb].
A complete roster of the video clips -- written, produced and narrated by 1982 DePauw graduate Ken Owen -- can be accessed by clicking here.
For comprehensive information on one of America's greatest and longest-running college football rivalries -- which in 1932 introduced a 300-pound locomotive bell as the winning team's prize -- visit the Monon Bell Web page.
Back