Civil Rights Movement on Hold But Work Remains: Prof. John Dittmer
December 6, 1985
December 6, 1985, Greencastle, Ind. — The civil rights movement, now more than 30 years old, is fighting a "holding action" and "racism is now respectable in the highest offices of the land," warns a DePauw University professor and expert on the civil rights struggle in the Southern United States. John Dittmer, chairman of DePauw's history department, also notes that many of today's students did not personally experience the 1960s and don't realize how complex the issues of the day were.
"The cruder forms of racism are gone, but the feelings seem to be that blacks have gotten everything -- and maybe more -- than they need," Dittmer says.
Dittmer's study, "In the Name of Freedom: The Mississippi Movement in Retrospect," was presented this fall at the Chancellor's Symposium on Southern History at the University of Mississippi. He has also authored other studies, including "The Movement in McComb, 1961-1964," which was presented at the Organization of American Historians in 1984; and "The Ordeal of Medgar Evers," presented at the American Historical Association in 1983.
The professor is currently at work on a book detailing the history of the civil rights movement in Mississippi from the mid-1950s to the late 1960s.
"A lot of good has come from the movement," Dittmer says. "Some astonishing things. But we still have a long way to go. The problems are still there. The black middle class gained the most from the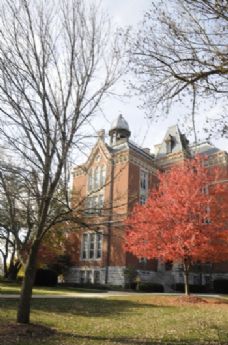 movement, but the black underclass was just passed by."
He notes, "What comes across today on the news flashbacks are Montgomery, Birmingham and Selma." But Dittmer says the issues and the people of the civil rights struggle are much more complex than what happened in those cities.
The professor also notes that the civil rights movement has suffered from the lack of leadership that people like Dr. Martin Luther King Jr. provided during the 60s. "Aside from Jesse Jackson, you don't have the kind of charismatic leadership that is going to galvanize people to work against such things as apartheid," Dittmer says. "There seems to be sort of a lull."
Before coming to DePauw, John Dittmer taught at IU, Tougaloo College in Mississippi, Brown University and the Massachusetts Institute of Technology.
Back