Prof. Robert Dewey Authors The Anti-Marketeers
May 27, 2009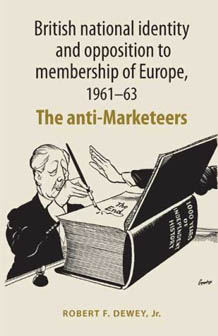 May 27, 2009, Greencastle, Ind. — Robert F. Dewey Jr., assistant professor of history at DePauw University, is the author of British National Identity and Opposition to Membership of Europe, 1961-63: The Anti-Marketeers. The new book is published by Manchester University Press.
The publisher notes, "This book provides a comprehensive analysis of the opponents of Britain's first attempt to join the European Economic Community (EEC), between the announcement of Harold Macmillan's new policy initiative in July 1961 and General de Gaulle's veto of Britain's application for membership in January 1963. In particular, it examines the role of national identity in shaping both the formulation and articulation of arguments put forward by these opponents of Britain's policy. Rather than focusing exclusively on high political analysis of diplomacy and policy formulation, the book provides a more complete depiction of the opposition movement and a distinctive
approach that proceeds from a 'low political' viewpoint. It emphasizes protest and populism of the kind exercised by, among others, Fleet Street crusaders at the Daily Express, pressure groups such as the Anti-Common Market League and Forward Britain Movement, expert pundits, constituency activists, independent parliamentary candidates, pamphleteers, letter writers and maverick MPs. In its consideration of a group largely overlooked in previous accounts, the book provides essential insights into the intellectual, structural, populist and nationalist dimensions of early Euroscepticism."
Learn more at Amazon.com.
In March, Dr. Dewey was invited to present a talk at London's Institute of Historical Research on "Fiji Islands, Empire and the Indigenous Embrace of Rugby Football." Details can be found in this recent article.
Back