David Cryer '58 and Prof. John Dittmer Receive Honorary Doctoral Degrees
May 17, 2009
Also: Professor John Dittmer Addresses Class of 2009; Commencement Photo Gallery 1 & 2; Order Your Commencement DVD
May 17, 2009, Greencastle, Ind. — Calling the moment a "wonderful serendipity," David Cryer, the 1958 DePauw University graduate who performs in the record-setting Broadway musical Phantom of the Opera, was honored at today's 170th annual commencement with an honorary Doctor of Arts degree. The principal speaker at the ceremony, John Dittmer -- professor emeritus of history at DePauw, award-winning author, and a nationally recognized authority on the civil rights movement -- was presented with an honorary Doctor of Humane Letters degree.

[Download Video: "David Cryer '58 Speaks" - 1104kb] "I hate pomposity and pretention," Cryer told the crowd gathered in Holton Memorial Quadrangle this afternoon. "When I came to New York, I was privileged to see Richard Kiley as Don Quixote sing this song. So, at the risk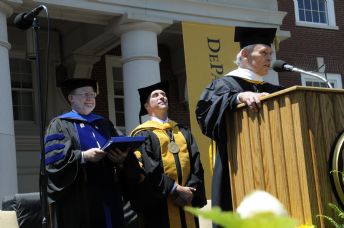 of pretention I'm going to sing it for you. It is my wish for you, Matt (Jennings '09. the Walker Cup recipient) and for all of you gorgeous graduates, the Class of 2009."
With that, Cryer performed a moving rendition of The Impossible Dream for the 515 graduates and the assembled crowd, which responded with a standing ovation:

[Download Video: "The Impossible Dream" - 5433kb].
Cryer is currently playing Monsieur Firmin in the Broadway production of Phantom, which he has done since January 2006; he had performed that part in the musical's national tour since 1992.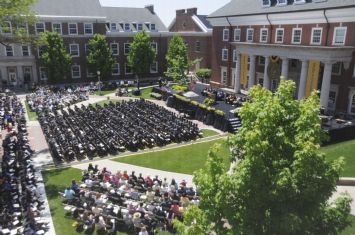 His other Broadway credits include Rutledge in 1776, Juan Peron in Evita, Ari in Ari, the Red Shadow in The Desert Song, and Jude Scribner in Come Summer. Cryer had leading roles off-Broadway in The Fantasticks, The Streets of New York, Mademoiselle Colombe, and Making of Americans.
The actor's career has taken him across America in road companies, playing opposite Anna Maria Alberghetti in West Side Story; Georgio Tozzi and Ricardo Montalban in The King and I; Dyan Cannon in I Do, I Do; and Debby Boone in The Sound of Music.
David Cryer's movie appearances include roles in Escape from Alcatraz and American Gigolo, and he has had roles on television's Law & Order, Dallas, Spenser: For Hire, Emergency! and Wonder Woman, among other programs. For several years he was a featured performer on the daytime serials As The World Turns and Where
The Heart Is.
Professor Dittmer, who taught at DePauw from 1985 until his retirement in 2003, is the author of The Good Doctors: The Medical Committee for Human Rights and the Struggle for Social Justice in Health Care, which was released Tuesday, and received the Bancroft Prize and several other awards for his 1994 work, Local People: The Struggle for Civil Rights in Mississippi. He called the honorary degree

[Download Video: "Dr. Dittmer is Honored" - 825kb] "really special, made more so because it came at the instigation and with the approval of my colleagues in the faculty," Dittmer stated.
Moments earlier, the professor called upon the Class of 2009 to seize the historic opportunities they have to build a better nation and world. A summary of his address, including video and audio clips and an MP3 file of the complete remarks, can be accessed in this story.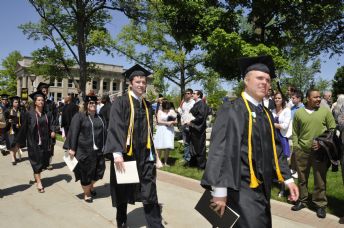 An article recapping addresses by Walker Cup recipient Matthew Jennings '09 and DePauw President Brian W. Casey can be found here.
A commemorative DVD of DePauw's 2009 commencement is available. The professionally replicated disc will include the complete program as well as a photo gallery and a variety of bonus material. The DVD can be purchased using this online form. Learn more about the project in this story.
Today's event was webcast live. An archived version of the program will be available here.
Graduating seniors, their parents and other visitors can access additional information on commencement by clicking here.
Back