"DePauw and Recent History Have Prepared You," Prof. John Dittmer Tells Class of 2009
May 17, 2009
Also: Prof. John Dittmer's Complete Address - Video &

[Download Audio: 10,811kb]; Commencement Photo Gallery 1 & 2; Order Your Commencement DVD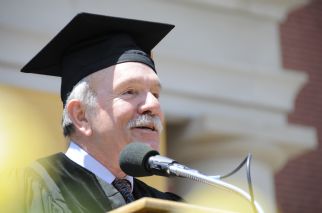 May 17, 2009, Greencastle, Ind. —

[Download Video: "Age of Adversity" - 823kb] "It may seem like cold comfort right now, but I believe that coming of age in an era of adversity has provided you with an education you could not get in the classroom," civil rights historian and Bancroft Prize winner John Dittmer told DePauw University's Class of 2009 this afternoon. He added, "I also believe that we are at a unique time and place in our history, where we have the ability and the will to right many wrongs." Dr. Dittmer, professor emeritus of history at DePauw, addressed a crowd of 515 seniors, their parents and friends, and faculty, staff and alumni of the University in ceremonies in the Holton Memorial Quadrangle.
Dittmer -- whose new book, The Good Doctors: The Medical Committee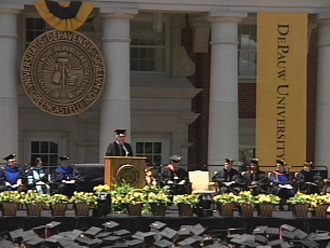 for Human Rights and the Struggle for Social Justice in Health Care, was published Tuesday -- served on the DePauw faculty from 1985 until his retirement in 2003. His speech touched on the world the young graduates are entering, with the nation's economy in its worst state since the Great Depression. But the professor noted that history has shown America to be a "resilient nation" and that the Class of 2009 can help shape the better nation that emerges from the current downturn.
He told the audience, "This is a festive occasion for all of us at DePauw -- the graduating seniors and their families, as well as my colleagues on the faculty and staff. As it turns out, today also has historical significance: fifty-five years ago, on May 17, 1954, at the Supreme Court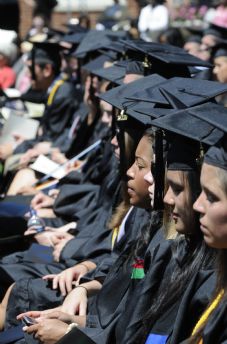 Building in our nation's capital, Chief Justice Earl Warren was handing down a unanimous decision, Brown v. Board of Education, which declared that racially segregated public schools were inherently unequal, in violation of the 14th amendment, and therefore unconstitutional."
According to Dittmer, "Since Brown did not apply to private schools, and African-American students had attended DePauw since the late 19th century, the decision would have little immediate impact here. It is worth noting, though, that of the nearly 1800 students enrolled here in 1954, only four were black, all of them men. One of those four students was a freshman named Vernon Jordan," the professor recalled. Jordan, a 1957 DePauw graduate, went on to lead the National Urban League and advise presidents. DePauw's lone black graduate in 1954 was William Allison, who went on to become a vice president of the Coca-Cola Company and, like Jordan, became a member of DePauw's Board of Trustees.
Dittmer, the recipient of a 2006 Indiana Humanities Award, stated,

[Download Video: "DePauw and The Greater Good" - 1920kb] "What has impressed me most about by two decades at DePauw has been the willingness, the eagerness of so many students to take what they have learned here and put it to work for the benefit of the larger community, volunteering their talents to assist others in need, and the class of 2009
is continuing this tradition. And the University itself has made great progress. All we have to do is look around at each other today to see that DePauw has come a long way since the Brown decision in attracting people of color to its student body, faculty and administration. There is still a good distance to be traveled, but we are on the right road, with next year's entering class promising to be the most racially and internationally diverse in our history." (photo at right: Alex Turco '10)
The pace of change immediately following the Supreme Court ruling, the historian noted, was not quick nor was its implementation universal, the professor stated. "Nowhere was the black freedom movement more dramatic and dangerous than in Mississippi, the state I know best, where thousands of local people -- maids, sharecroppers, small business owners -- risked their livelihoods and their lives in the struggle for equality."
Dittmer pointed to the efforts of Fannie Lou Hamer and the Freedom Democratic Party which successfully challenged the state's all-white, segregationist delegation. Their efforts did "open up up the Democratic Party, and helped pushed Congress to enact the Voting Rights Act of 1965. More than that, we can draw a direct line from Fannie Lou Hamer's dramatic presentation at that 1964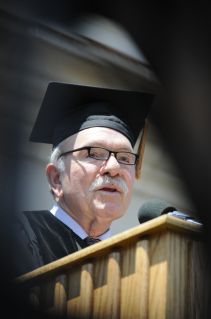 convention to the 2008 election of Barack Obama. The hands that picked the cotton did in fact elect a president," added the man whose 1994 book, Local People: The Struggle for Civil Rights in Mississippi, won several awards including the Bancroft Prize, generally considered the most prestigious award in the field of American history writing.
The history professor recalls telling his students a decade ago that "they had not had the opportunity to experience life-changing events, like the civil rights struggles and the turmoil over the Vietnam War ... My students in the nineties had grown up during a period of unprecedented prosperity, with no wars on the horizon. The seniors in my class were looking forward to good jobs or graduate school, and they were, like you, very smart people. I read them a quote from the historian Arnold Toynbee. Referring to another place and another time, Toynbee said, 'Well, here we are on top of the world, and we have arrived at this peak to stay there, forever! There is, of course, a thing called history,' he concluded. 'But history is something unpleasant that happens to other people.' 'Your problem,' I told my students, rather smugly, 'is that history has not happened to your generation.'"
The Class of 2009 has grown up in a different world, according to Dittmer.

[Download Video: "Living History" - 2915kb] "Your historical 'education' began ten years ago at Columbine. I cannot imagine what was running through your minds at age 11 or 12, as you watched the footage of students not much older than you being mowed down in classrooms that looked much like your own. And then two years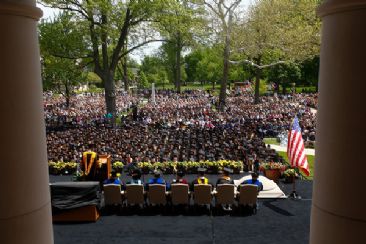 later there was 9/11 and its aftermath, the war on terror, where you and your parents walked through airports guarded by fuzzy-cheeked national guardsmen carrying automatic rifles. We felt physically insecure, many of us for the first time in our lives. All this led to wars. Our 'successful' invasion of Afghanistan soon led us to go to war against Iraq in order to 'free' the Iraqi people, with all the subsequent pain, suffering, and disillusionment that accompanied these adventures. And then along came the silent horror of Katrina, where we all sat around and watched as a great city and its people lay dying. Just when things were looking up, in a presidential campaign where a bright young political superstar had us believing 'Yes we can,' the banks failed us and the stock market collapsed, with immediate implications for many of you graduating today. Yes, history has happened to you."
Dittmer was chosen as the principal commencement speaker by a committee composed of DePauw seniors and faculty members. He told the new graduates,

[Download Video: "Historic Convergence" - 1001kb] "This country's leaders are eager to confront long-festering problems in health care, in education, the environment,
and in climate change and nuclear proliferation, and they have pledged to commit the resources to do so. Over the past century there have been only two periods in our history, the 1930s and the 1960s, where public policy and a commitment to social justice have converged, and the stars may well be lined up the same way today."
He concluded,

[Download Video: "Meeting the Challenges" - 1419kb] "With all of the difficulties that beset us, then, this is also a time of great opportunity. DePauw -- and recent history -- have prepared you to meet these challenges, to make your contribution to a world where this nation might once again lead, not by military might but through the power of its example, giving hope to all those who believe in the possibilities of democracy."
Dittmer and David Cryer '58 each were honored with honorary doctoral degrees at today's ceremony, which took place under blue skies and temperatures in the mid-60s.
A summary of remarks made by Matthew Jennings '09, recipient of the Walker Cup, and DePauw President Brian W. Casey, can be found here.
A commemorative DVD of DePauw's 2009 commencement is available. The professionally replicated disc will include the complete program as well as a photo gallery and a variety of bonus material, including more than an hour of campus highlights from the past four years (beginning with the Class of 2009's opening convocation in August 2005, clips of Ubben Lecturers such as Tony Blair and Mikhail Gorbachev, and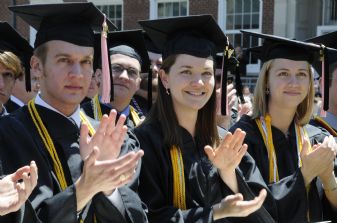 ending with the awarding of the 2009 Walker Cup).
The DVD can be purchased using this online form. Learn more about the project in this story.
Today's event was webcast live. An archived version of the program will be available here.
A photo gallery of last night's "DePauw Under the Stars" celebration for the Class of 2009 can be accessed here.
Graduating seniors, their parents and other visitors can access additional information on commencement by clicking here.
Back