DePauw's Forgotten Founder: The Memoirs of Calvin Washington Ruter is Published
January 20, 2010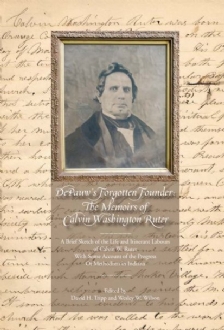 January 20, 2010, Greencastle, Ind. — DePauw's Forgotten Founder: The Memoirs of Calvin Washington Ruter has been published by the Archives of DePauw University & Indiana United Methodism. Wesley W. Wilson, coordinator of archives and special collections at DePauw, is co-editor of the book.
Ruter (1794-1859), a Methodist minister in Ohio and pioneer Indiana, was described by contemporaries as "... a vigorous man ... who possessed a strong, clear voice, well adapted to outdoor preaching." He considered his part in the founding of DePauw University his greatest achievement.
As Wilson and David H. Tripp write in the introduction to the book, "The memoirs of Calvin Washington Ruter offer unique insight into the part he played in the founding of Indiana Asbury (DePauw) University. The names of Robert R. Roberts, Edward Ames and Allen Wiley are well-known founders, but until examination of his two-volume, hand-written memoirs, little was known of Ruter's efforts on the University's behalf. The conference minutes note Ruter's part in the establishment of the University, but these memoirs give a much clearer picture of the man and the
event."
DePauw's Forgotten Founder is available for $10 from the DePauw Bookstore or through the Archives by e-mailing archives@depauw.edu.
You're also invited to visit the Archives online.
Back