Tyler A. Archer '11
February 2, 2010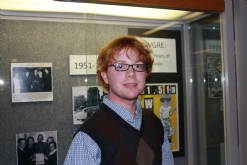 Tyler A. Archer '11 is curating a Civil War exhibit at the Putnam County Museum. The exhibit, which opens on Abraham Lincoln's birthday, Feb. 12, focuses on how the Civil War directly affected people living in Putnam County.

"It's been really exciting," Archer says. "My job has been to do some of the research, pool it together and write a coherent narrative of the Civil War story in Putnam County."

Archer became involved in the project last August – when it was only an idea – while talking to his adviser, John T. Schlotterbeck, professor of history. "We talked about possible Winter Term projects. Professor Schlotterbeck said that the Putnam County Museum staff wanted to showcase an exhibit about the Civil War, but they weren't sure where they were going with it. He asked, 'Can you help?' Archer's work on the exhibit began as an independent study project in the fall semester and continued through Winter Term.

"Though the Civil War was never my favorite historical period, I'm enjoying it more and more," Archer says. "The more I read and get to see the primary documents, the more it makes me think about what was really happening at that time.

"There were many contributions to the war from Putnam County residents that many people probably aren't aware of, but they were pretty significant," Archer says. Eli Lilly, the future founder of the pharmaceutical firm, Eli Lilly and Company, went on from Greencastle to be a colonel in the war. Lilly also studied at Indiana Asbury University (DePauw University). There were three Indiana Asbury University graduates who became Abraham Lincoln biographers.

Another fascinating Putnam County-Civil War connection is to General Robert E. Lee. Barton W. Mitchell, a soldier from Bloomington, Ind., who enlisted in Putnam County, made one of the Civil War's most memorable discoveries on Sept. 12, 1862, when he found Gen. Lee's battle plans for the invasion of Maryland wrapped around three cigars. Mitchell served as a corporal in the 27th Regiment. "Photos of the monuments on the battlefields of Antietam and Gettysburg for this regiment will be on display at the Museum," Archer says.


"We've had great response from the community. People have loaned us many things – all with Putnam County ties – including a battle box, Union swords and Confederate muskets, a slave bill of sale and mess kit. Also included are many letters, photos and some excellent diaries of people who were affiliated with the University, discharge papers and parole certificate papers.

"It's a large undertaking in terms of items," Archer says. "Unfortunately, not all of them will be included in the exhibit. However, there is an online component to the exhibit accessible through the DePauw Archives, which we're excited about. Since it's online, it will be preserved forever."

Archer doesn't claim credit for all of the research completed for the new exhibit. "Nicole Etcheson, professor of history at Ball State University, has been a valuable resource for us." She is writing a book, The Union Home Front: Putnam County Indiana, in the Civil War Era. Archer has met with Etcheson to confer with her on his work.

"My interest in doing something like this started when I took Professor Schlotterbeck's class, History Beyond the Classroom," Archer says. "I'd always been interested in learning about museums and monuments and had written some papers before about public history. After I took the class, I had the opportunity to take the Internship in Public History course. For a semester, I worked in the DePauw Archives with Wesley "Wes" W. Wilson, coordinator of archives and special collections.

"I did lots of archival and curatorial work," Archer says. In addition, he was responsible for the WGRE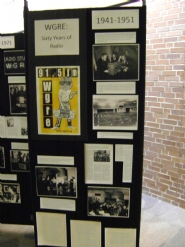 radio 60th anniversary exhibit last year, which is temporarily on display in Roy O. West Library and will be on permanent display in the Eugene S. Pulliam Center for Contemporary Media. "It's part of their history," Archer says. "It's a strange feeling to walk by it and think that I did that, but at the same time, I'm really proud of it." Visit the WGRE: 60 Years of Radio online exhibit through the DePauw Archives to learn more.

Archer is the WGRE station manager, an Honor Scholar, student representative on a faculty committee and a committee chairperson for Relay for Life. As if this list of responsibilities isn't long enough, he was recently hired as an intern and a consultant for the National 4-H Council, and will work from Greencastle this semester and join the organization in Washington, D.C. this summer.

While a Greencastle High School student, Archer took college credit courses at DePauw through the ALPHA Program. "That was the best introduction to college," Archer says. "I took lots of history classes, and I even began thinking about a major.

"I looked at a lot of different colleges, but then I came back to DePauw as being the best choice. I was so impressed with the History Department at DePauw and what it had to offer. It was one of the main reasons that I decided to apply."

Archer hasn't been disappointed. "I've been involved in a lot of things that I wouldn't have been able to do at other schools," Archer says. "I have worked closely with multiple professors and have worked on two exhibits, which is the kind of thing that you don't normally start doing until graduate school."
Back