Academy Award-Nominated Director Jason Reitman to Deliver Ubben Lecture on March 15
February 17, 2010
February 17, 2010, Greencastle, Ind. — Director Jason Reitman, whose latest film Up in the Air is nominated for six Academy Awards -- including Best Picture, Best Director and Best Screenplay -- will visit the campus of DePauw University eight days after the Oscar ceremony to deliver a Timothy and Sharon Ubben Lecture. Reitman's talk will take place on Monday, March 15, at 7:30 p.m. in Kresge Auditorium of DePauw's Green Center for the Performing Arts. Like all Ubben Lectures, the program is presented free of admission charge and is open to all. (photo at left: Kirk McKoy/Los Angeles Times)
The son of Ivan Reitman, whose directing credits include Ghostbusters and Stripes, Jason Reitman was born in Canada in 1977. He appeared in small acting parts and served as a production assistant on his father's films, learning techniques such as editing along the way. An English and creative writing major at the University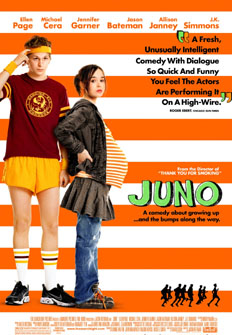 of Southern California, Reitman began making his own short films and directing commercials in his twenties.
His first feature film, Thank You for Smoking, was released in 2005. Reitman developed the screenplay from a Christopher Buckley novel and directed the film, which grossed almost $40 million worldwide and was nominated for two Golden Globe Awards.
Juno, released in 2007, premiered at the Toronto Film Festival and was nominated for four Academy Awards (Best Director, Best Screenplay, Best Picture, and Best Actress) and was Roger Ebert's top film of the year. Starring Ellen Page and Michael Cera, Juno grossed more than $140 million at the U.S. box office and earned Reitman several awards, including the 2008 Cinema for Peace Award for Most Valuable Work of Director, Producers & Screenwriter and Best Director at the 2008 Canadian Comedy Awards. Empire magazine's 2008 listing of the 500 greatest movies of all-time ranked Juno at number 463.
Up in the Air, released in December, is based on a novel written by Walter Kirn. George Clooney stars as a corporate downsizer who travels from city-to-city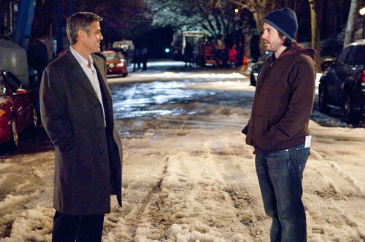 "who spends so much time traveling that he is most at home where he is a stranger," according to USA Today's Anthony Breznican. Writing in September 2009, days before Up in the Air was screened at the Toronto Film Festival, Breznican stated, "A positive reception could establish Reitman among the year's Academy Award heavyweights while furthering the 31-year-old's status as one of his generation's best new filmmakers."
"It's tough to capture an era while it's still happening, yet Up in the Air does so brilliantly, with wit and humanity," opined Claudia Puig of USA Today. "Reitman emerges as a modern-day Frank Capra, capturing the nation's anxieties and culture of resilience." (at left: Clooney and Reitman, photo by Dale Robinette/Paramount Pictures)
Giving Up in the Air a grade of "A," Entertainment Weekly's Owen Gleiberman called it a "rare and sparkling gem of a movie, directed by Jason Reitman with the polish of a master."
Added Kenneth Turan of the Los Angeles Times, "Up in the Air makes it look easy. Not just in its casual and apparently effortless excellence, but in its ability to blend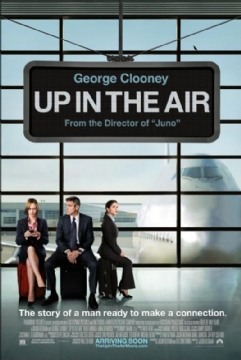 entertainment and insight, comedy and poignancy, even drama and reality, things that are difficult by themselves but a whole lot harder in combination. This film does all that and never seems to break a sweat."
The National Board of Review named Up in the Air 2009's best picture. The film received eight Broadcast Film Critics Association nominations and six Golden Globe nominations, with Reitman and Sheldon Turner winning the Best Adapted Screenplay award in both competitions. On February 6, Reitman, Turner and Kirn were honored with USC's 2010 Scripter Award for adapted screenplay. The film has also received recognition from numerous critics' associations.
At the March 7 Academy Awards presentation, Up in the Air will be up for six awards: Best Director (Reitman), Best Screenplay (Reitman and Turner), Best Actor (Clooney), and two of its stars are nominees for Best Supporting Actress (Anna Kendrick and Vera Farmiga). Reitman and his father, who co-produced the film, are also named in the Best Picture Oscar nomination.
Now 32, Jason Reitman is the youngest filmmaker to have received two Oscar nominations for best director.
"In a country with unemployment above 10 percent, Reitman seems to have nailed the zeitgeist," wrote Stewart Oksenhorn in Colorado's Vail Daily in December. Up in the Air "is making the opinion page as well as the entertainment section; New York Times columnist Frank Rich centered a recent opinion piece on the film. Which means, of course, that Up in the Air was made in a rush, going from conception to the screen in 15 months, the time in which the U.S. economy went from cruising to tanking. Or
that Reitman took a stab at a film about downsizing, and lucked out when the milieu caught up to his project. The correct answer is both, and neither. The facts are: Reitman did not set out to make a film about job loss. Much of the content about the failing economy was added to the film in the 11th hour. And Up in the Air is, in the end, not an issue film about employment statistics, but a story about a man stumbling toward finding his soul." (photo at left: Dale Robinette/Paramount Pictures)
"All of us have things to say and we just don't know how. Movies are kind of my way of dealing with my inner questions," Reitman told the newspaper.
Variety's Sharon Swart says Jason Reitman "doesn't pick the easiest subject matter, but that's the mark of a filmmaker who really wants to say something and isn't afraid to explore darker territory."
"Growing up the son of a director has made me very aware of the various turns that a directing career can take," Reitman told TIME. "Sometimes your films turn out exactly as you want. Sometimes they don't. I spent a lot of my childhood on sets. I think as a joke, my father gave me a
line of dialogue in each of his films during the worst moments of my puberty. I don't really think of that as an acting career but more my father pushing me never to become an actor."
Roger Ebert of the Chicago Sun-Times opines, "With these three films at the dawn of his career, we can only imagine what comes next. He makes smart, edgy mainstream films. That's harder than making smart, edgy indies."
George Clooney calls Reitman one of the best directors he's ever worked with. "And with each film he gets better," Clooney shared with the New York Times. "He's nice. He's smart. He's accomplished. I hate him."
Jason Reitman's résumé also includes directing two episodes of the hit NBC comedy series, The Office, and a filmed segment for Saturday Night Live.
Established in 1986 through the generous support of 1958 DePauw graduates Timothy H. and Sharon Williams Ubben, the Ubben Lecture Series was designed to "bring the world to Greencastle" and presents events which are available for students, faculty, staff, alumni and the local community to enjoy.
On November 30, 2009, SuperFreakonomics co-author Steven D. Levitt visited DePauw, while the first-ever Ubben Debate brought Howard Dean and Karl Rove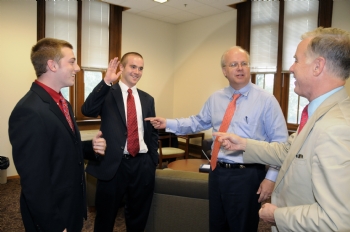 to campus on September 11, 2009. Other previous guests have included Mikhail Gorbachev, Tony Blair, Benazir Bhutto, Spike Lee, Margaret Thatcher, Shimon Peres, Willy Brandt, John Major, Peyton Manning, General Colin Powell, Elie Wiesel, Jane Pauley, Ambassador L. Paul Bremer, Greg Mortenson, Todd Rundgren, Ross Perot, General Wesley Clark, Naomi Wolf, David Plouffe, Paul Volcker, Doris Kearns Goodwin, Barbara Bush, Ralph Nader, Mitch Albom, Frank Warren, Harry Belafonte, Mike Krzyzewski, Julian Bond, E.O. Wilson, Jesse Jackson, David McCullough, Paul Rusesabagina, Paul Tsongas, Brian Mulroney, Ken Burns, George Will, Eric Schlosser and Sister Helen Prejean. (above left: DePauw students Sam Spahn and David Dietz with Karl Rove and Howard Dean)
To view a complete roster of Ubben Lecturers -- which includes links to video clips and news stories -- click here.
Back