Sports Illustrated Profiles "Very Special" Coach Brad Stevens '99
September 28, 2010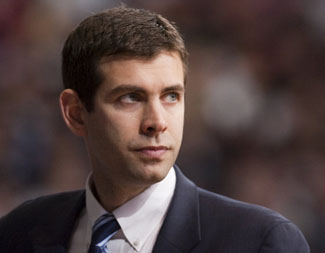 September 28, 2010, Greencastle, Ind. — Brad Stevens, head men's basketball coach at Butler University, "grew up in Zionsville, Ind., which is a half-hour's drive north of Indianapolis, attended DePauw University in Greencastle, and he has worked at Butler since coming there in 2000 as a director of basketball operations under former coach Thad Matta," writes Sports Illustrated's Seth Davis. "He and Tracy, whom he met when he was a freshman at DePauw, have a son, Brady, who is 4, and a 16-month-old daughter named Kinsley."
The article notes that Brad Stevens, with "an eye-popping 89-15 record," signed a 12-year contract extension after his team came within a whisker of winning the national championship in the spring, and that his wife, a labor and employment attorney, served as his agent. "When my wife and I want to go out to dinner, we have no problems finding a babysitter," Brad Stevens tells SI. "Can you think of a better reason to stay at a job?"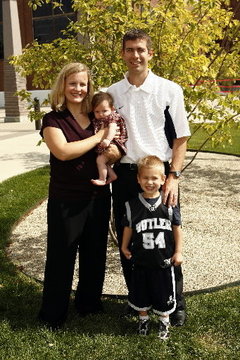 Brad and Tracy (Wilhelmy) Stevens are both 1999 graduates of DePauw. (at right: Tracy and Brad Stevens with their children)
"To the untrained eye, this program may feel like a one-hit wonder -- the proverbial 'This Year's George Mason' -- but that is not the case," writes Evans. "Over the last 10 years, the Bulldogs have been to the NCAA tournament six times, and since 2003 they have reached the Sweet 16 three times. During the last four years, they've been ranked in the AP's top 25 for all but 10 weeks. Reaching the NCAA championship game was a remarkable achievement for a No. 5 seed, but Stevens is on a mission to prove it was no fluke."
The column includes praise from Louisville head coach Rick Pitino, who declares, "All of us coaches wish we had the humility that he has when we were his age. I think he's very special." He adds, "When Coach K got to Duke, it was in a top conference, but it was not a top-10 job. It wasn't even a top-20 job. He made it a great job, and the same thing can be true of Butler and Gonzaga. They're top-20 programs every year and they go far in the tournament."
You'll find the full text at SI.com.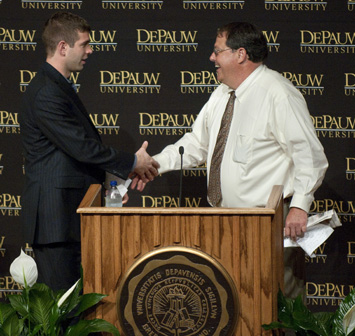 In a preview of the coming season, Yahoo! Sports' Jason King opines, "Butler's biggest weapon, though, may be on the sideline in Brad Stevens, who has proven to be one of the best coaches in the country." Read more here. (at left: Stevens is greeted by Gary Lemon, director of DePauw's Management Fellows program and professor of economics)
Brad Stevens was an economics major and Management Fellow at DePauw, where he played basketball for four years. In June, a half-hour program on FOX Sports Midwest focused on Stevens' success at Butler and included comments from Bill Fenlon, his collegiate coach at DePauw. On April 13, Stevens returned to his alma mater to deliver the Robert C. McDermond Lecture.
Also available is this recent article.
Back