Prof. Jeff Kenney Speaks in Malaysia on 'The Challenges of Teaching Islam at an American University'
January 19, 2011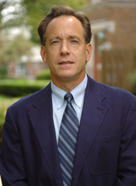 January 19, 2011, Greencastle, Ind. — Jeffrey T. Kenney, University Professor and professor of religious studies at DePauw University, expressed his support today for Malaysian Prime Minister Datuk Seri Najib Tun Razak's call for a "Global Movement of the Moderates." Dr. Kenney today presented a speech in Kuala Lumpur, "The Challenges of Teaching Islam at an American University," and "said such movement was important to promote international peace and harmony," according to a report by Bernama, the Malaysian National News Agency.
"It''s hard to argue on international peace; peace is always a good thing," Kenney said.
The story notes, "In September last year, when addressing the United Nations General Assembly in New York, Najib had called for the setting up of the movement aimed at rallying leaders and intellectuals to state their stand against extremism ... On Islamophobia, which is prejudice against or an irrational fear of Islam and Muslims, Kenney said it had existed in the U.S. even before the Sept 11, 2001 attack.
"Even before Sept 11, if it was not Islamophobia, it was at least ignorance and suspicion of Islam. I think many people are
suspicious of things they don''t understand," the professor states. "I think (to solve it), interaction and learning about other people and other places are important. When people make such an effort, they will find out that others are different from what they were thought to be."
Kenney's speech was organized by Institute of Islamic Thought and Civilisation (ISTAC).
Read more at Yahoo! News.
Jeff Kenney is author of Muslim Rebels: Kharijites and the Politics of Extremism in Egypt, which was published by Oxford University Press.
Back