Elmer Thomas '00, a US Senator for 24 Years, Dies at Age 89
September 19, 1965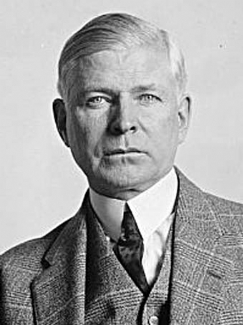 September 19, 1965, Greencastle, Ind. — John Elmer Thomas, who spent nearly half of his 89 years in state and national political office, including 24 years as U.S. Senator from Oklahoma, died today in a Lawton, Oklahoma hospital. A 1900 graduate of DePauw University, Thomas was a lifelong Democrat who served in the Senate from 1926 until 1950.
Born on a farm in Putnam County, Thomas paid his way through DePauw by taking odd jobs. He earned an undergraduate degree from Central Normal College in 1987 and then came to DePauw for graduate studies. He was admitted to the Indiana bar after completing his work at DePauw in 1900 and moved to Oklahoma City shortly afterward.
Prior to his election to the Senate, Thomas had been a U.S. Representative from Oklahoma for four years and spent 13 years in the Oklahoma state legislature. Senator Thomas was recognized as an authority on financial affairs,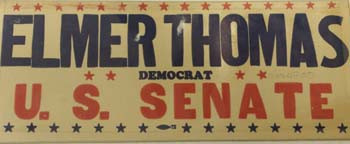 Indian legislation and farm and oil issues. (at right: campaign sign from the DePauw University Archives and Special Collections)
After leaving political life, Thomas practiced law in Washington, D.C., until returning to Lawton in 1957.
He was awarded an honorary Doctor of Laws degree from DePauw in 1937.
Back