DePauw Qualifies for National Ethics Bowl for Seventh Time in 8 Years
November 15, 2011
November 15, 2011, Greencastle, Ind. — Two teams from DePauw University have qualified for a national competition after making strong showings at the the 13th annual Central States Regional Ethics Bowl, which took place over the weekend at Marian University in Indianapolis. Twenty-one teams representing 19 colleges from Indiana, Illinois, Kentucky, Ohio, Michigan, Minnesota and Wisconsin took part in the event. DePauw sent two teams to the competition -- one placed third, the other finished in sixth place.
The DePauw students qualified for the national Ethics Bowl competition, which will take place March 1, 2012 in Cincinnati in conjunction with the annual meeting of the Association of Practical and Professional Ethics.
It marks the seventh time in the last 8 years that DePauw has qualified for the national competition.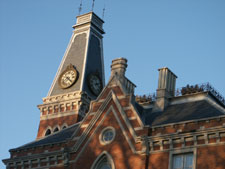 Members of the team are pictured above (First row, l-r: Sara Scully, Nicki Hewell [coach] and Marcia McKelligan [coach]; second row: Robert Watson, Nate Lynch, Ben Hoffman and Ethan Brauer; third row: Kartik Amarnath and Alex Landreville; back row: Peter Stuart, Bob Newton [coach], and Mohammad Usman).
Ethics Bowl is an event inspired by the nationally televised College Bowl. It began in 1995 as an intercollegiate competition developed by faculty at the Illinois Institute of Technology in Chicago. Marian University has sponsored a Regional Ethics Bowl since 1999.
View the results by clicking here.
Back