Fulbright Award Recipient Case Nafziger '12 Will Teach in South Korea
April 3, 2012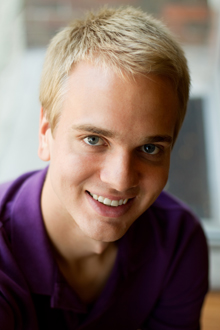 DePauw University senior Case M. Nafziger will spend the upcoming academic year in South Korea teaching English as a result of being awarded an English Teaching Assistant grant through the 2012-13 Fulbright U.S. Student Program competition.
Sponsored by the U.S. Department of State and established in 1946, the Fulbright U.S. Student Program competition aims to increase mutual understanding among nations through educational and cultural exchange while serving as a catalyst for long-term leadership development.
"As a student at DePauw, I have had the privilege of traveling to two continents, taking courses in numerous disciplines, and studying alongside students from across the globe," Nafziger wrote in his Fulbright application. "My dual degrees in English writing and vocal performance have prepared me to look at the world through a creative lens."
The senior notes, "My interest in going to Korea began in March 2011, when a branch of the South Korean government announced its focus on providing increased arts education through orchestra programs at low-income schools, in an effort to bridge cultural gaps and provide

balanced and creative social development for the nation's children. This initiative surprised me, as many modern economies have cut such funding. But Korea historically places great value in the arts, as seen in 1962, when traditional Korean folk music gained legal support as an 'Intangible Cultural Asset.' While the United States is a melting pot of cultural traditions, Korea's population is more grounded in a collective history, which I hope will inspire and influence my music career upon return to the United States."
Nafziger, whose parents are both teachers, states, "Debate over educational policy has caused me to think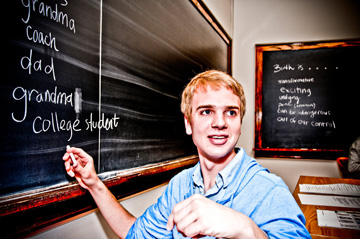 critically about what and how I learn, and to appreciate the educational experiences I have been fortunate to acquire. Most importantly, my parents and teachers have instilled in me the conviction that education plays an urgent role in the development of children, communities, and nations. When coupled with my desire to teach, I believe that my artistic interests can indeed promote peace."
In addition to teaching English, Nafziger plans to start an an after-school music club in South Korea. "Inspired by a course I took at DePauw, I see this group as a means of self-expression through the creative process of studying music, with the understanding that any person, regardless of musical talent or experience, can identify with some part of the musical process," he wrote. "Each week, the club will focus on a different aspect of Korean folk music; from pongmul (small percussion bands) to pansori (narrative story singing) to modern Korean pop, we will supplement the learning with experimental performances of these various genres. Additionally, I will teach the students about some American music traditions. Ideally, I see the club's year ending with a public performance, in which the students can show their community what they've learned about Korean and American traditions."
According to Nafziger, "Through my experiences of playing violin in chamber groups,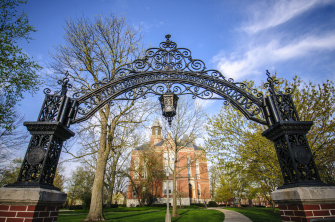 singing with vocal ensembles, composing my own songs, and writing stories and poetry in my English courses at DePauw, I have seen people make discoveries about themselves while engaging in the creative arts. Because music is constantly transformative for me, I hope that my students will be able to find comfort in and gain confidence through their own creative ideas and impulses. In Peru, I witnessed an entire neighborhood of children light up at the sight of their very own schoolhouse. With a Fulbright grant to South Korea, I hope to see that glow extend beyond the completion of a building and into the students' learning about themselves and their country's rich cultural history."
He notes, "I aspire to have a music performance career, with the realization that performance does not have to be self-serving. Regardless of where a career in music takes me, I know that the opportunity to teach in South Korea will shape the way I plan that future, and tie me even closer to this intricately woven world."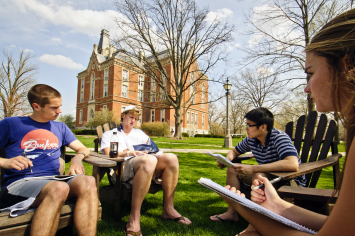 The Fulbright U.S. Student Program competition is the largest American international exchange program offering opportunities for students and young professionals to undertake international graduate study, advanced research, university teaching, and teaching in elementary and secondary schools worldwide. It currently awards approximately 1,600 grants annually in all fields of study, and operates in approximately 130 countries worldwide.
Fulbright full grants generally provide funding for round-trip travel, maintenance for one academic year, health and accident insurance and full or partial tuition.
Since its inception in 1946, the Fulbright Program has provided approximately 310,000 participants, chosen for their leadership potential, with the opportunity to observe each others' political, economic and cultural institutions, exchange ideas, and embark on joint ventures of importance to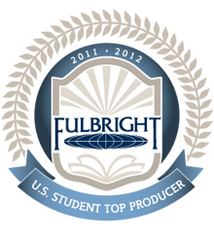 the general welfare of the world's inhabitants. Learn more by clicking here.
DePauw University is listed among the "Top Producers of Fulbright Awards for U.S. Students, 2011-12" in the Chronicle of Higher Education. DePauw is the only bachelor's institution in the state of Indiana to appear on this year's list and was also cited as one of the USA's top producers of Fulbright Fellows in the publication's 2009, 2008, 2007 and 2006 listings.
See the names of DePauw's Fulbright recipients here or visit the University's Fulbright page.
DePauw students and alumni who are interested in applying for Fulbright Awards may contact David N. Gellman, associate professor of history, or Marion "Marnie" McInnes, professor of English and women's studies and director of nationally competitive scholarships.
Back