Honorary Doctorates Presented to Four Distinguished Individuals
May 20, 2012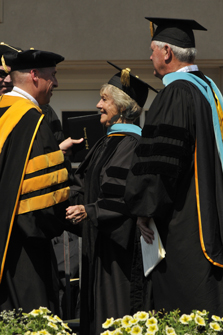 Order Commencement DVD
"Your tireless service for your alma mater continues to enrich this campus, with support for faculty, support for student financial aid, and a lecture series -- the Ubben Lecture Series -- that affords the members of this campus the opportunity to engage with the greatest leaders in the world," DePauw University President Brian W. Casey said to Timothy H. Ubben and Sharon Williams Ubben as he presented them with honorary Doctor of Public Service degrees. The Ubbens, both 1958 graduates of the University, were among four individuals presented with honorary degrees at the 173rd commencement.
Also honored were David N. Baker Jr., distinguished professor of music and chair of the jazz department at the Indiana University School of Music, and Sara Lennox '65, director of the Social Thought and Political Economy Program (STPEC) and professor of German and Scandinavian studies at University of Massachusetts, Amherst.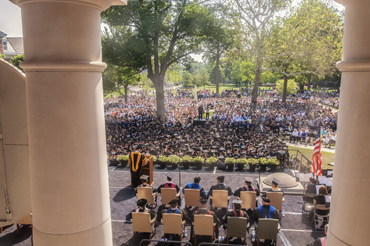 Amy Goodman, the host and executive producer of Democracy Now!, was scheduled to receive an honorary degree today, but work duties kept her from attending the ceremony.
Over the years, the Ubbens have been active in the lives of their community and important causes, including their alma mater. The Ubben Lecture Series celebrated its twenty-fifth anniversary with a visit by former President Bill Clinton. Previous guests have included Benazir Bhutto, Margaret Thatcher and Mikhail Gorbachev.
Hear Tim and Sharon Ubbens' remarks here:
Sara Lennox, a 1965 graduate of DePauw, is a pioneer in broadening German Studies to include questions of race and gender and models how liberal arts education provides a foundation for professional distinction and interdisciplinary analysis.
Video of her degree presentation and remarks can be found below:
David Baker received an honorary Doctor of Music degree. Baker also is conductor and artistic director of the Smithsonian Jazz Masterworks Orchestra. A 1973 Pulitzer Prize nominee, he was nominated for a Grammy Award in 1979 and received an Emmy Award in 2003 for his musical score for the PBS documentary For Gold and Glory.
See Baker's honorary degree presentation below:
A total of 515 seniors participated in today's ceremonies, which took place under sunny skies and with temperatures in the 80s.
The principal address was provided by James B. Stewart, Pulitzer Prize-winning journalist and author and 1973 graduate of DePauw.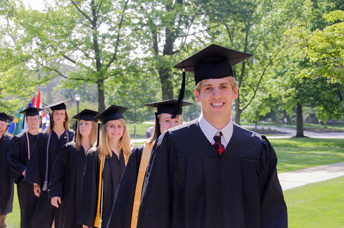 It is covered in this article.
Nic Flores, the 2012 recipient of the Walker Cup, spoke to his classmates. His remarks are summarized here.
A DVD of today's ceremony is available, which will include many bonus features. The cost is $19.95 for the first disc; additional DVDs sent to the same address will be $8 each (7% sales tax will be added to Indiana orders). An online order form is available here; you can learn more about the disc in this article.
Also available is the commencement web page.
Back