"We Are Ready," Nic Flores '12 Tells Classmates at DePauw's 173rd Commencement
May 20, 2012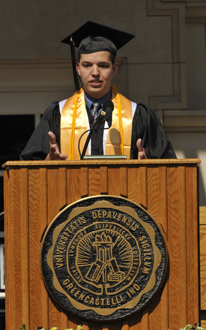 Order Commencement DVD
"As we leave this place that has been our home for four years, I invite you to embrace the activist history of DePauw, shake off apathy, engage the world, determine which is the main danger, and do something to change it," senior Nicholas "Nic" Flores told fellow members of DePauw University's Class of 2012 at this morning's 173rd annual commencement. Flores is the 2012 recipient of the Walker Cup, which is awarded to the senior who has contributed the most to the DePauw community during his or her four years on campus.
"As DePauw students, every single one of us has been introduced to people and ideas that have challenged us to critically reflect on our lives and actions," added Flores, an anthropology major and women's studies minor who was also a Bonner Scholar and was vice president of student government. "We've learned in our classrooms and living units that being part of an intellectual community means holding each other accountable, especially when what we do and what we say directly affects other people."
Moving forward, Flores hopes that he and his classmates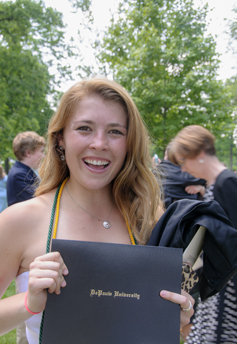 "continue to have these seemingly small conversations while not forgetting that there is power in them and that power translates to change. When we think about how we are going into the world soon, remember that we have this obligation to push forward, enact change, and a make positive difference. This doesn't always mean having the loudest voice, but finding the power of your own voice and enhancing the voice of others."
He concluded, "At DePauw, we have been given the skill set to find our voice. We are reflective. We are aware. We are collaborative. We are responsible. We are engaging. We are critical thinkers, and most importantly, we are ready."
To mark DePauw's 175th anniversary celebration, twenty-nine previous Walker Cup recipients were on hand for today's graduation. Established by Guy Morrison Walker (Class of 1890), the Walker Cup has been awarded since 1927 to the graduating senior deemed by classmates as having done the most for DePauw during his or her four years on campus. Alumni descendants of Mr. Walker were also in the audience today.
See video of Nic Flores' address below:
A total of 515 seniors participated in today's ceremonies, which took place under sunny skies and with temperatures in the 80s.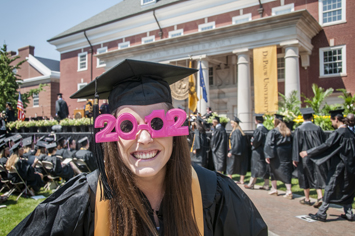 The principal address was provided by James B. Stewart, Pulitzer Prize-winning journalist and author and 1973 graduate of DePauw. It is covered in this article.
Four individuals -- including three alumni of DePauw -- were presented with honorary doctorates today. Read more here.
A DVD of today's ceremony is available, which will include many bonus features. The cost is $19.95 for the first disc; additional DVDs sent to the same address will be $8 each (7% sales tax will be added to Indiana orders). An online order form is available here; you can learn more about the disc in this article.
Also available is the commencement web page.
Back