Author & Journalist James B. Stewart '73 Urges DePauw's Class of 2012 to Seize "Defining Moments"
May 20, 2012
As members of DePauw University's Class of 2012 end their undergraduate experiences and enter the world of work, public service and graduate school, "The world will be a better place," said James B. Stewart in the primary commencement address this morning. The Pulitzer Prize-winning journalist, bestselling author, columnist for the New York Times and 1973 graduate of DePauw University added, "And your rewards for doing so will be immeasurable as you create lives that are singularly, irrevocably, irreplaceably and splendidly -- yours."
A total of 515 seniors participated in today's ceremonies in Holton Quadrangle. Skies were sunny and temperatures were in the 80s as DePauw -- celebrating the 175th year of its founding in 1837 -- held its 173rd commencement exercises.
In an address titled "Defining Moments," Stewart asked, "What are they? They are relatively few. You will never forget them, but today's graduation is probably not one. They are not the great ceremonial occasions of life, such as weddings, anniversaries, or even winning the Pulitzer Prize, memorable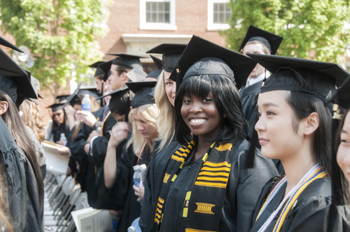 though these are. They may well be known only to you. Some come suddenly and unexpectedly, others may be years in the making. Looking back on my life, I see now that they were clustered relatively early, but they have continued, and I don't know how many more lie ahead."
The award-winning journalist added, "A defining moment thrusts a decision upon you, one that will alter the course of your life. It will define who you are, what you achieve, how you feel about yourself, and how you will be remembered. Everything you have done so far, everything you have experienced at DePauw, has been preparing you for these moments. Indeed, choosing to attend DePauw may well be one of them, as it was for me."
The author of the "Common Sense" column for the Business Day section of the New York Times, Stewart won the Pulitzer Prize for Explanatory Journalism in 1988 for his articles in the Wall Street Journal about the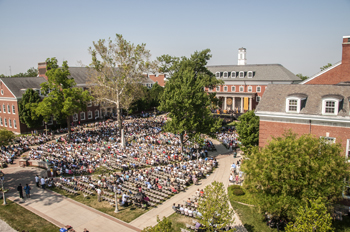 1987 dramatic upheaval in the stock market and insider trading. Stewart was named page one editor of the Journal in 1988 but left the paper four years later to found SmartMoney magazine.
He is the author of 11 books including Den of Thieves; DisneyWar: The Battle for the Magic Kingdom; Heart of a Soldier: A Story of Love, Heroism, and September 11th; and Tangled Webs: How False Statements are Undermining America from Martha Stewart to Bernie Madoff.
"One of the pleasures of getting older is the realization that defining moments aren't just about you. You can help create them for others," Stewart told the graduates and their families. He recalled how he met Brian Casey at a party in Manhattan years ago, when Casey was an administrator at Brown University. Several years later, as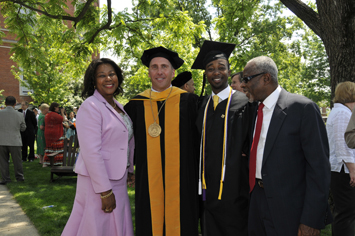 DePauw began its search for a new president, Stewart reached out to Dr. Casey.
"I thought Dr. Casey would be a hell of a president someday. I thought he'd be a great president for DePauw. But I had no idea that he'd turn into the best college president in America."
Stewart concluded, "And now it is your turn. You are heading into the world. Your defining moments are at hand. They will likely come sooner than you expect. Let me assure you: you are ready. Your hearts and minds have been trained for exactly this purpose. Embrace these moments with all the courage, confidence, optimism, intelligence and love that lie within you."
James B. Stewart was also presented with DePauw's Bernard C. Kilgore '29 Medal for Distinguished Lifetime Achievement in Journalism. It is the latest in many awards he has received for his work.
See the complete speech below:
Stewart, who traces his career back to a term as editor of The DePauw, has also been honored with the Edgar Award, the George Polk Award, the Elliott V. Bell Award and Gerald Loeb awards in 1987, 1988 and 2006. He was the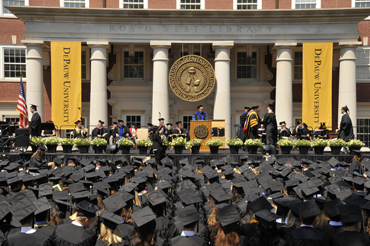 recipient of DePauw's Young Alumni Award in 1988, an Alumni Citation in 1988, an honorary Doctor of Journalism degree in 1989, and the Old Gold Goblet in 2009.
Jim Stewart is Bloomberg Professor of Business and Economic Journalism at CUNY and is a member and past chair of DePauw's Board of Trustees.
The University recognized four retiring faculty members at today's exercises: Nancy J. Davis, Lester Martin Jones Professor of Sociology, who came to DePauw in 1982; Carl A. Huffman, University, Professor, Robert Stockwell Professor of Greek Language and Literature and Professor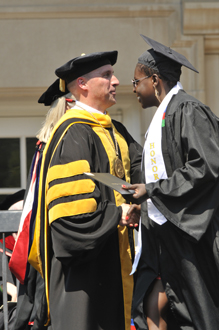 of Classical Studies since 1981; Cleveland T. Johnson, University Professor and Professor of Music, who joined the faculty in 1985; and Robert D. Kingsley, Professor of Art and Art History since 1976.
Graduates also heard from classmate Nic Flores '12, recipient of the Walker Cup. His remarks are covered here.
Four individuals -- including three alumni of DePauw -- were presented with honorary doctorates today. Read more here.
A DVD of today's ceremony is available, which will include many bonus features. The cost is $19.95 for the first disc; additional DVDs sent to the same address will be $8 each (7% sales tax will be added to Indiana orders). An online order form is available here; you can learn more about the disc in this article.
Also available is the commencement web page.
Back