Newspaper Spotlights Men's Soccer Standouts
September 24, 2012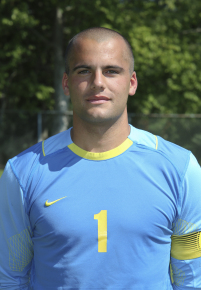 "If you're looking for a solid goal keeper who's quietly making a name for himself, look no further than Tony Halterman and what he's been doing at DePauw University in Greencastle," begins a story in the Times of Northwest Indiana. "The Lake Central grad has been a master between the pipes for the Tigers, who are ranked 25th nationally in Division-III. The two-year starter was a big reason why DePauw went more than 660 minutes before allowing an opposing player to score a goal."
"Tony has developed beyond our expectations," soccer coach Brad Hauter, DePauw coach Brad Hauter, a 1987 DePauw graduate, tells the newspaper. "He's already drawing interest from pro scouts, and I'm really excited to watch
how the rest of his collegiate career unfolds."
Brian Waddle writes, "Also pitching in for the Tigers is Valparaiso grad Patrick Reineke. Reineke scored the game-winner with 6:03 left in DePauw's 2-1 victory over visiting Denison on Sept. 15, helping the Tigers rally for the win with two second-half goals."
Access the full story at the Times' website.
You're also invited to visit the official online page of DePauw's men's soccer team.
Back