Going Back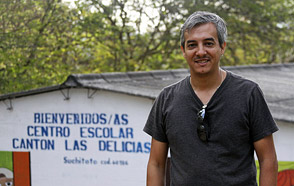 December 17, 2012
Nearly two decades ago, DePauw sent its first Winter Term in Service delegation to the village of Consolacion in El Salvador. The brutal 13-year Salvadoran Civil War had come to an end a year before the trip, but behind United Nations checkpoints, at the end of unpaved roads leading deep into the jungle, the despair remained.
Rural communities such as Consolacion had paid dearly for supporting the guerrilla resistance during the war. There is no way to describe what they suffered other than the truth of it: men, women and children were kidnapped, tortured and murdered by their own government, and entire villages "disappeared" overnight. Though the 1992 Peace Accords put an end to the violence, El Salvador was still divided. The federal government, whether unable or unwilling, did little to help its former enemies rebuild, leaving them at the mercy of foreign aid.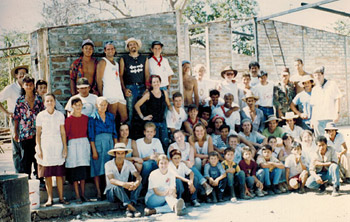 For three weeks, 40 DePauw students and professors worked in Consolacion, rebuilding the roof of a local school. The roof, however, was just one of life's comforts lost in the war. Facing an outbreak of cholera, the group learned how to treat drinking water they collected in large buckets. In the evenings, they hiked 30 minutes to the nearby village of La Mora – the closest place with standing buildings large enough to accommodate all of them – where they shared the floor a single room for sleeping.
"It still amazes me that we were allowed to go," Ivan J. M. Villasboa '93 says. "There's no way DePauw would allow it to happen again. But we were safe. There was no crime in guerilla territory. None. It still felt like it was a war zone. Everybody followed orders. Everybody knew what to do."
Nobody was more affected by the experience than Villasboa, a senior at the time of the trip. He had been planned to return to his native Argentina to work in finance after he graduated, but as his stay in El Salvador neared its end, he began to question whether he'd even fly back to DePauw.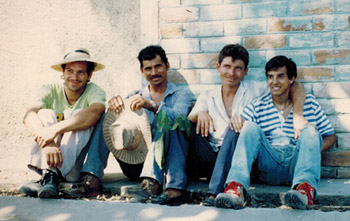 "I started to think, 'What have I been doing all my life?'" Villasboa, on right, remembers. "I actually felt I owed the people we were with."
Looking for an excuse to stay, Villasboa shared his thoughts with a Salvadoran man who served as a liaison between the students and the community. The man thought about it silently for a few minutes, then responded with a question. "Where will you be the most effective?" he asked. Villasboa wanted to believe otherwise, but he realized there were better ways for him to help.
Following his graduation, Villasboa spent two years raising money and awareness for the people of El Salvador with Companion Community Development Alternatives (CoCoDA), the Indianapolis nonprofit that helped to make the 1993 Winter Term in Service possible. He returned to CoCoDA in 2003 after an unsatisfying stint in the private sector and has been the organization's executive director since 2009.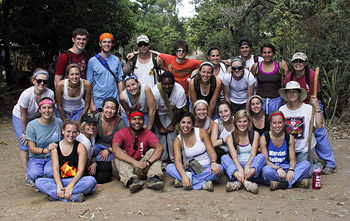 One way or another, each project Villasboa manages at CoCoDA is connected to his experience as a student. In addition to the yearly service delegations CoCoDA has supported since 1993 (right, the 2012 delegation), Villasboa oversees large-scale water treatment projects in El Salvador – "Having to take care of my own water made a big impression on me," he says – and provides a scholarship to cover housing for college students who graduate from the school he helped rebuild in Consolacion.
Villasboa has traveled to El Salvador more times than he can count, but a visit planned for next summer has him more excited than usual. In celebration of the 20th anniversary of the first delegation, DePauw and CoCoDA are offering an El Salvador service trip to alumni and their families for the first time. Scheduled in July 2013, the alumni service trip will return to the community of Consolacion, since renamed Las Delicias, whose school is again in need of repair.
"I am blessed that I can keep reliving my trip from 1993, but how many of my peers have that opportunity?" Villasboa says. "Now that some of my friends have children in their teens, they want their sons or daughters to understand that water, or education or security isn't to be taken for granted. This trip is a way to share that with their families."
If the summer trip is a success, Villasboa hopes it serves as a model for future Winter Term in Service-style opportunities for alumni. Ideally, he'd like the trips to extend to the other places DePauw students travel to during Winter Term, but to do that, a new tradition needs to begin somewhere.
"My hope is that these trips will still be going on when I leave CoCoDA – that would be my gift to DePauw," Villasboa says. "Maybe 20 years from now, somebody will wonder, 'Where the hell did this idea come from?'"
More information about the trip, photos and a link to the trip itinerary are available on the Alumni Service Trip webpage.
Back