Libby Larsen Here as Composer-in-Residence for Annual 'Music of the 21st Century'
February 24, 2013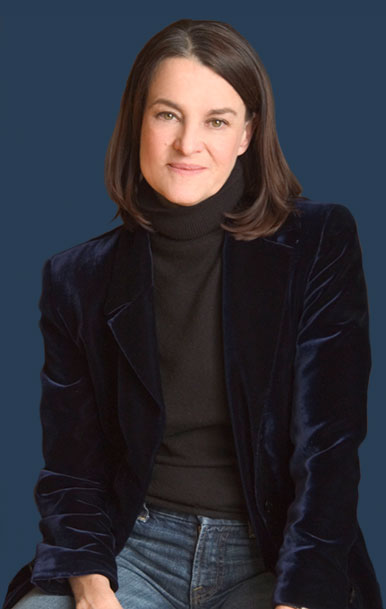 The DePauw University School of Music welcomes Libby Larsen to campus February 27 through March 3 to serve as composer-in-residence for "Music of the 21st Century." The five-day residency at DePauw includes a full calendar of master classes and coaching sessions, along with three concerts.
Two performances, on Thursday, February 28, and Friday, March 1 -- both at 7:30 p.m. in the Green Center's Thompson Recital Hall -- will focus on some of the composer's chamber works, including Corker for clarinet and percussion, Mephisto Rag for piano, and Eleanor Roosevelt for soprano and chorus. A gala-style closing concert at 3 p.m. on Sunday, March 3, in Kresge Auditorium, will feature music written for larger forces -- orchestra, chorus, and band.
Larsen's visit concludes with a performance of Holy Roller, an inventive work for large wind ensemble, by the DePauw University Band with music faculty member Scotty Stepp as the alto sax soloist.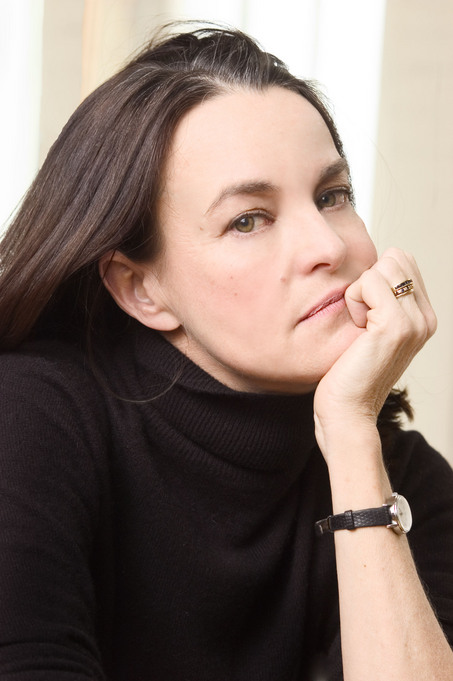 Born in 1950 in Wilmington, Delaware, Libby Larsen is one of America's most prolific and most performed living composers, with a catalog of over 500 works spanning virtually every genre from intimate vocal and chamber music to massive orchestral works and operas. Her music has been praised for its dynamic, deeply inspired, and vigorous contemporary American spirit. Larsen's collaborators include the King's Singers, Benita Valente, and Frederica von Stade, among others. The composer has also received numerous awards and accolades, including a 1994 Grammy Award as producer of the CD The Art of Arlene Augér, an acclaimed recording that features Larsen's "Sonnets from the Portuguese," to be performed by soprano Barbara Paré and pianist John Clodfelter during the Friday concert in Thompson.
USA Today, which selected Larsen's opera Frankenstein, The Modern Prometheus as one of the eight best classical music events of 1990, hailed her as "the only English-speaking composer since Benjamin Britten who matches great verse with fine music so intelligently and expressively."
Larsen held the 2003–04 Papamarkou Chair in Education at the Library of Congress, as well as a Lifetime Achievement Award from the American Academy of Arts and Letters. In 1973, she co-founded the Minnesota Composers Forum. Now known as the American Composers Forum, this innovative organization has been an invaluable advocate for composers in a difficult, transitional time for American arts.
"Music exists in an infinity of sound," Larsen has said. "I think of all music as existing in the substance of the air itself. It is the composer's task to order and make sense of sound, in time and space, to communicate something about being alive through music."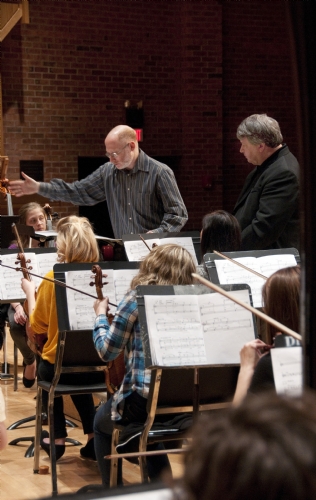 The annual "Music of the 21st Century" residency has brought some of the world's most outstanding composers to DePauw, including such monumental artists as George Crumb, Chen Yi, Aaron Jay Kernis (seen at left working with DePauw student musicians), Joan Tower and Samuel Adler. The series, underwritten by Robert A. and Margaret A. (Sheridan) Schmidt -- both 1969 graduates of DePauw -- provides an opportunity each year for personal interaction with these composers, allowing students and faculty to study, perform, and share with audiences music written not long ago and far away but in the present.
"Libby Larsen's music could only have been written by an American composer," observes Amy Lynn Barber, professor of music and coordinator of the "Music of the 21st Century" series. "It is so steeped in American folklore, history, mythology, and literature. Audiences connect immediately to the beauty, expressiveness, color, rhythm, wit and humor in her music."
Concert tickets to the Music of the 21st Century series can be purchased for $5 in advance and $7 the day of the performance. All coachings and master classes are free and open to the public, and admission to DePauw School of Music events is always free
to all students, seniors, and children, as long as tickets are available. Anyone wanting to attend a music event, who cannot afford to pay full ticket price, can also take advantage of the pay-what-you-can option. Tickets may be purchased in person at the Green Center's box office, located at 605 S. College Avenue in Greencastle, or online at www.depauw.edu/music/tickets.
For additional information, including a detailed schedule, visit www.depauw.edu/music, or call (765) 658-4827.
Back