Winners of Annual Concerto Competition Perform Sunday
April 9, 2013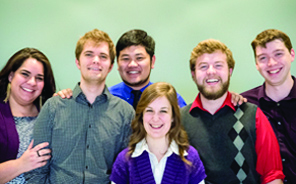 The DePauw University Orchestra, under the direction of Orcenith Smith, will accompany winners of the annual School of Music Concerto Competition in an exciting array of solo performances on Sunday, April 14. The program will include vocalists Emily Barnash (soprano), Lucas Wassmer and Michael Padilla (tenors), and Erik Erlandson (baritone); pianist Rachel Robin; and percussionist Josiah Rushing (marimba) and takes place at 3 p.m. in the Green Center's Kresge Auditorium.
The concert will offer a showcase of large works for soloist and orchestra, as well as displays the diverse talents of DePauw University School of Music students.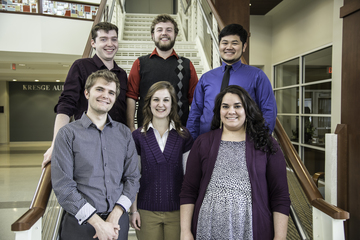 The annual concerto contest included two rounds of competition in late February.
"This year's preliminary round, judged by DePauw Music Faculty, consisted of thirty-six students, performing in the categories of string instruments, voice, piano, woodwinds, brass and percussion," says Smith, music director for the DePauw University Orchestra. "Those musicians selected for the final round performed again two days later, adjudicated by judges from outside of DePauw. The students who scored the highest total points in the final round were selected as winners."
This year's concert includes performances of Schumann's Piano Concerto in A Minor, Mvt. I by sophomore Rachel Robin; Mozart's "Come scoglio" from the
opera Così fan tutte by junior Emily Barnash; "Je crois entendre encore" from Bizet's by senior Lucas Wassmer; the second movement of the Concerto for Marimba and Strings by Emmanuel Séjourné by senior Josiah Rushing; and "In quegli anni" from Mozart's Le Nozze di Figaro sung by senior Michael Padilla. The Gettysburg Address from Letters from Lincoln, composed by Michael Daugherty and sung by senior Erik Erlandson, will conclude the afternoon program.
General admission for the concerto concert is $3; tickets for students, children, and seniors are free. Order tickets at depauw.edu/music/tickets. For additional information or assistance, stop by the Green Center's box office or call (765) 658-4817.
Back