Wednesday Concert Features Bass-Baritone Andrew Richardson '10
June 17, 2013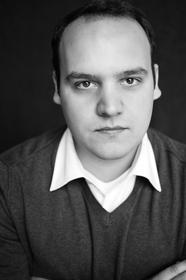 Andrew Richardson, a bass-baritone and 2010 graduate of DePauw University, will be featured in this week's concert presented as part of the Greencastle Summer Music Festival. The free program will take place Wednesday at 7:30 p.m. at Gobin Memorial United Methodist Church. Richardson, now a doctoral student at the Indiana University Jacobs School of Music, and Tony Weinstein, pianist and director of the Accompanying Center at DePauw, will "take the audience on a transformative emotional and spiritual odyssey, performing the 24 songs by Franz Schubert, known as the "Winterreise" (winter journey)," reports today's Banner-Graphic.
"I'm always happy to present rising young artists like Andrew," says Eric Edberg, a professor in the DePauw School of Music and coordinator of the summer festival. "Andrew is a huge talent, with deep ties to DePauw and Greencastle."
Read more at the newspaper's website.
Back