Kendall Quisenberry '13 Prepares for Fulbright Experience in Malaysia
August 12, 2013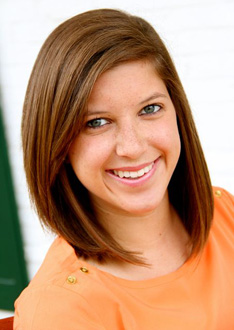 "Teaching English is something I'm good at and I'm passionate about, so I'm definitely ready for the experience," Kendall C. Quisenberry tells the Messenger-Inquirer of Owensboro, Kentucky. A May 2013 graduate of DePauw University, Quisenberry is preparing to leave in January for Malaysia, where she'll teach English as the recipient of an English Teaching Assistantship from the Fulbright U.S. Student Program competition.
The newspaper's profile notes, "Quisenberry plans to travel for a year after the program before returning to the U.S. for graduate school ... She's spent the past six weeks as a residential counselor at the Center for Talent Development, a camp for gifted children, in Chicago."
The full story is available to subscribers at the paper's website.
Quisenberry's Fulbright Award was announced in April. An English (writing) major and education studies minor as an undergraduate, she is one of 8 members of the DePauw University community to be announced as Fulbright winners for the upcoming academic year. They include four other members of the Class of 2013: Katlin "Katie" V. Kraska has been awarded a Fulbright U.S. Student scholarship and will conduct research and study in Indonesia during the upcoming academic year. K. Kartik Amarnath's Fulbright U.S. Student scholarship will support
his project, "Development and Disability: Spatial Access and Agency for Kuala Lumpur's Blind Population" in Malaysia. An ETA awarded to David Tykvart will send him to the Czech Republic to teach English, and Brittni E. Crofts will use an ETA to teach English in Vietnam.
Ian B. Davidson, a professor in the School of Music at Texas State University and 1980 graduate of DePauw University, will visit Tumaini University Makumira in Tanzania two times as a visiting Fulbright Scholar. Juliana O. Odetunde, a medical student at the University of Kentucky and 2007 graduate of DePauw, will use a Fulbright-Fogarty Fellowship to study leptospirosis in Salvador, Brazil. John R. Chittum, a 2006 graduate of DePauw and currently a doctoral student at the University of Missouri-Kansas City Conservatory of Music and Dance, will use a Fulbright Graduate Student Research Grant to conduct research at the Royal College of Music, Sweden's largest college of music.
Back