John Chittum '06 Will Use Fulbright Award to Study Politics of Swedish Death Metal Music
July 24, 2013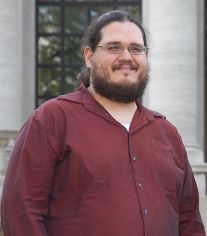 John R. Chittum, a 2006 graduate of DePauw University and currently a doctoral student at the University of Missouri-Kansas City Conservatory of Music and Dance, has been awarded a Fulbright Graduate Student Research Grant. Chittum will use the award to traveling to Stockholm, Sweden at the end of summer to conduct research at the Royal College of Music, Sweden's largest college of music.
"My research grant entails interviewing Swedish death metal musicians about the political messages in their music, as well as their subversion of folk elements to espouse their political messages," says Chittum, who was a music major at DePauw and earned a master's degree from Brooklyn College. "In more blunt terms, the Swedish death metal scene is overtly pro-Swedish and anti-immigration, edging of racism, and distinctly anti-Christian. I'll be interviewing them regarding using their music to further their political ideas. And, because I am a composer, not a musicologist, instead of writing a lengthy paper, I am using these interviews to influence

my dissertation, a full length political opera based on myths and folk elements from various cultures."
Also an entrepreneur, Chittum notes, "In the past year, I've helped to produce an evening of 6 world premiere operas, worked with a scratch ensemble on several programs, and have plied myself as a composer, performer, researcher, and administrator." He states, "DePauw shaped much of who I am as a composer and performer now, from fundamentals to conducting (I conducted those 6 operas, as well as doing some administration and spearheading the entire idea) to performing. It's always great to give back to my real starting point as a musician."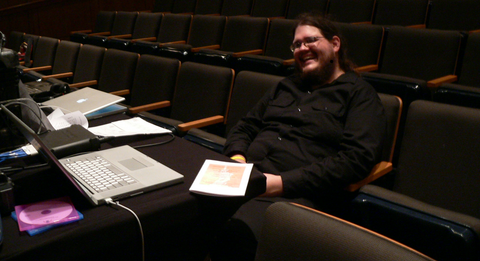 John Chittum is the eighth member of the DePauw University community to be announced as a Fulbright winner for the upcoming academic year. They include five members of the Class of 2013: Katlin "Katie" V. Kraska has been awarded a Fulbright U.S. Student scholarship and will conduct research and study in Indonesia during the upcoming academic year. K. Kartik Amarnath's Fulbright U.S. Student scholarship will support his project, "Development and Disability: Spatial Access and Agency for Kuala Lumpur's Blind Population" in Malaysia. Kendall C. Quisenberry will use an English Teaching Assistantship to teach in Malaysia, while an ETA awarded to David Tykvart
will send him to the Czech Republic to teach English, and Brittni E. Croftswill use an ETA to teach English in Vietnam.
Ian B. Davidson, a professor in the School of Music at Texas State University and 1980 graduate of DePauw University, will visit Tumaini University Makumira in Tanzania two times as a visiting Fulbright Scholar. Juliana O. Odetunde, a medical student at the University of Kentucky and 2007 graduate of DePauw, will use a Fulbright-Fogarty Fellowship to study leptospirosis in Salvador, Brazil.
Established in 1946, the Fulbright Program is the flagship international educational exchange program sponsored by the U.S. government and is designed to "increase mutual understanding between the people of the United States and the people of other countries." The Fulbright Program has provided about 310,000 participants -- chosen for their academic merit and leadership potential -- with the opportunity to study, teach and conduct research, exchange ideas and contribute to finding solutions to shared international concerns.
DePauw University is listed among the "Top Producers of Fulbright Awards for U.S. Students, 2012-13" in the Chronicle of Higher Education.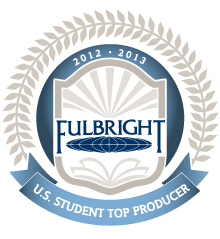 DePauw was also cited as one of the USA's top producers of Fulbright Fellows in the publication's 2011, 2009, 2008, 2007 and 2006 listings.
See the names of DePauw's Fulbright recipients here or visit the University's Fulbright page.
DePauw students and alumni who are interested in applying for Fulbright Awards may contact David N. Gellman, associate professor of history, or Kate Knaul, director of global opportunities and assistant to the Dean of Academic Life.
Back