"Be Ambitious for Yourselves," DePauw's Class of 2017 is Encouraged as New Academic Year Begins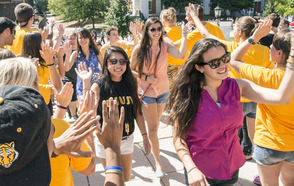 August 24, 2013
"The advice I want to give you, today, right now, is to stop -- stop for a moment and let go of yourself," DePauw President Brian W. Casey said today to the University's Class of 2017. At this afternoon's opening convocation, Dr. Casey told the incoming students, who had spent the day moving into their residence halls, "I want you to begin your education on this first day, and that means you have to get out of your own head."
DePauw's nineteenth president continued, "I am asking you to do this because your ability to learn, your ability to begin to see your future, your very happiness will depend exactly on your ability to get out of your own head and connect. To fall in love with something greater than yourself."
A total of 677 new students comprise the Class of 2017. One of the most academically gifted and diverse classes in DePauw's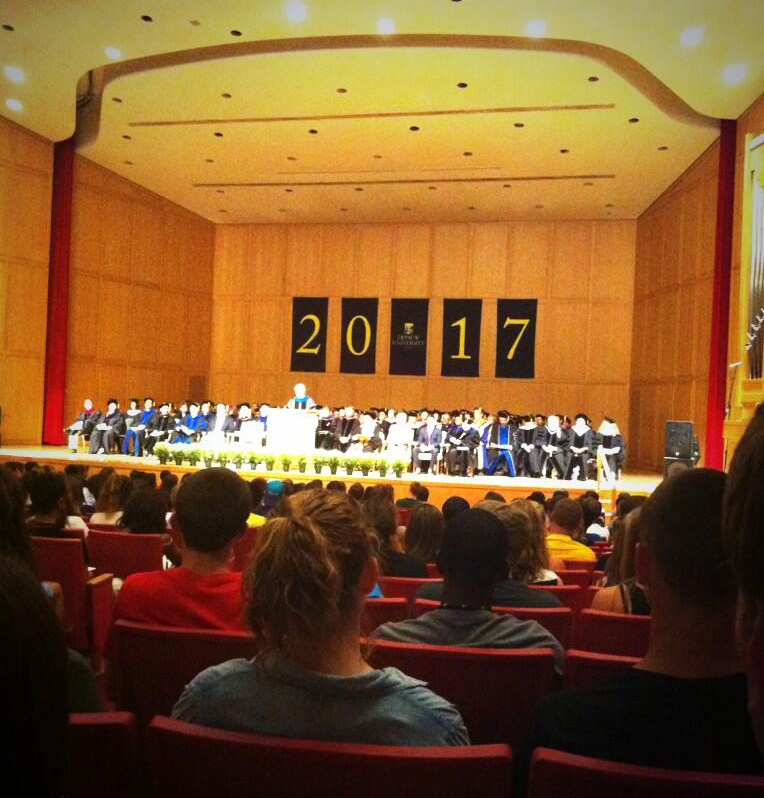 176-year history, half of the incoming freshmen ranked in the top 10% of their high school class; 83% ranked in the top 25%. Approximately one-third of the new students come from historically underrepresented groups. Ten percent of the incoming scholars come to Greencastle from foreign countries, while another 22% are domestic students from multicultural backgrounds, an increase of 3% from last year (read more here).
The new undergraduates arrived with their familes this morning and began the annual rite of move-in day. They gathered with their families and new classmates for a lunch on East College lawn. The convocation, which began with the Class of 2017 processing under the arch at East College and through the campus, began at 4 p.m. in Kresge Auditorium, located within the Judson and Joyce Green Center for the Performing Arts.
Looking out over the students, President Casey noted, "I have never met a truly successful or happy person who is successful or happy alone, who made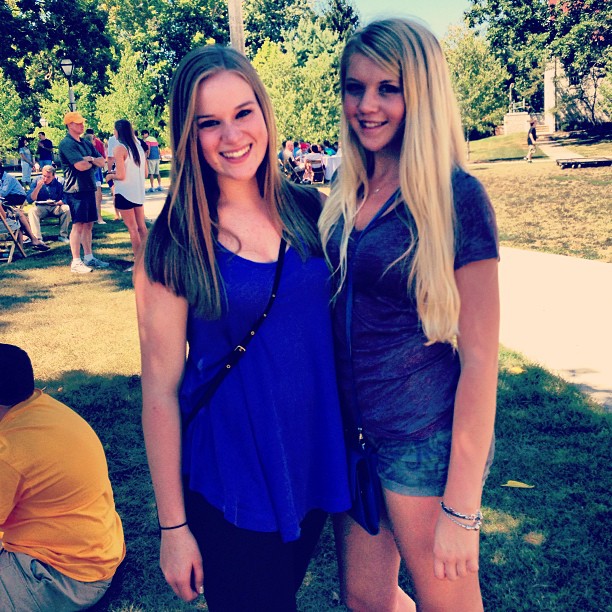 it all up from the contours of their own mind -- the mad, solitary genius is an anomaly. Great writers have great editors, great musicians have great teachers. Scientists, it has long been said -- because it's true -- stand on the shoulders of all the scientists who went before. Great ideas become greater when they are passed from one person to another.
"When you let go of yourself, you allow for the possibility of a productive humility – and you allow for the possibility of awe. It allows you to stand before a work of art and be stunned by its power. It allows you to read history and be swept up by the past. It allows you to move past the boundaries of you; it allows the world to be big -- massively big -- and surprising."
The students also heard from Wayne E. Glausser, Jane Cooling Brady Professor of English at DePauw. "No doubt some of you know exactly what you want to study here; others have more tentative plans; and still others are vintage 'Undecideds,' " the professor stated.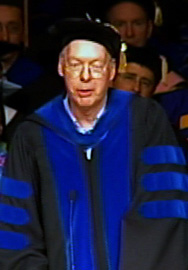 "Whichever camp you're in, you have a chance right from the start to surprise yourself with an interest you didn't know you had. We have a lovely assortment of First Year Seminars taught by the people behind me. You're all enrolled in one, whether it was your first choice, or fourth choice, or just popped up on your schedule out of nowhere. Your seminar professor will nurture your skills in academic reading and writing, but it's not a narrow sort of training course." The purpose, Dr. Glausser added, is to "help launch you as a sophisticated thinker and writer."
Unlike courses offered online, which are about "training someone in a technical skill, or transferring a body of established facts from an expert to a novice," the English professor said DePauw students learn hands-on in small classrooms, make lifelong friends, and are immersed in an environment where ideas are "in flux, not fixed and inert."
"The DePauw experience is not a run of the mill college experience," senior and student body president Walker Chance told the new students. He added, "It isn't just the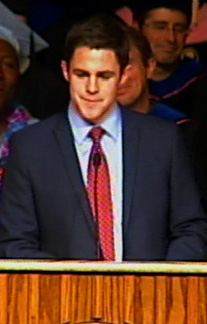 liberal arts education, the amazing opportunities, or the social events around campus -- this experience is one that will shape who you are as an individual."
Chance continued, "You will experience your ups and downs. Those times where you think finishing may be impossible or that you can't see that light at the end of the tunnel. But clichés aside, the light is always there. Push forward. Be the best you can be and make the most out of your time here. Four years goes by quicker than you think. In a blink of an eye any one of you could be standing where I am -- in a blink of an eye your 4 years will have come and gone; in a blink of an eye you can become exactly who you see yourself becoming."
The program also included comments from Larry Stimpert, vice president for academic affairs; Cindy Babington, vice president for student life; and Brent E. St. John '89, president of the DePauw Alumni Association.
"Now your education is fully beginning, on a much bigger stage," President Casey told the students and families as the convocation drew to a close. "And we all need you to look out the windows of your world today, and tomorrow.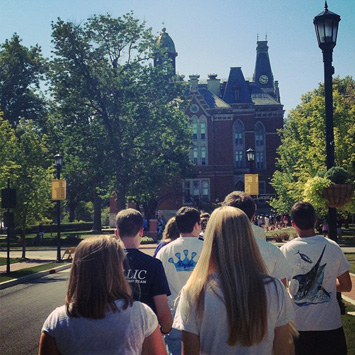 The music of the 21stcentury has yet to be written. Someone in your generation is going to write that music. Someone is going to perform it. And someone from your generation will be the first to hear it, and be the first to be changed by it. That's what makes music possible. And it turns out that's what makes chemistry possible. And physics. And economics. And art. And life. So be ambitious for yourselves today, extremely ambitious. But also be ambitious for each other. The energy of your aspirations can be a source of energy for those around you. Celebrate the possibilities of your classmates. Boldness likes company."
A webcast of today's ceremony is available here.
Classes begin on Wednesday, August 28.
Learn more about DePauw's First-Year Experience by clicking here.
Back