Campus Prepares for the Arrival of DePauw's Class of 2018
August 22, 2014
Link - Watch Saturday's Opening Convocation Live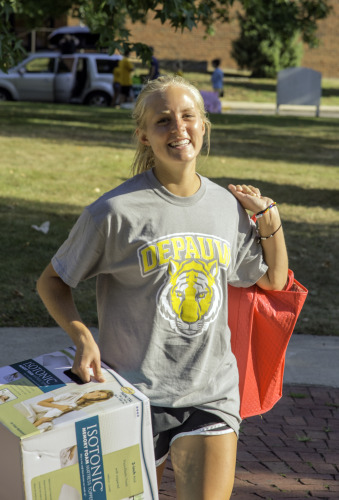 DePauw University will welcome one of the academically strongest -- if not the strongest -- incoming classes in its 177-year history tomorrow when the Class of 2018 arrives on campus tomorrow. A total of 540 new students will arrive with their families to move into their living units, attend the traditional opening convocation at 4 p.m. led by President Brian W. Casey, and attend orientation sessions.
"It's the day we spend all summer preparing for, a day of new beginnings," says Christopher Wells, vice president for student life at DePauw. "We're very excited to greet our new students and introduce them to DePauw and all that is available to them on campus."
The incoming first-year class at DePauw exhibit the strongest academic profile in the University's history, selected from a record number of applications. The Class of 2018 will arrive on campus boasting an average high school GPA above a 3.8 and an average ACT score of 28. Admission into the class was also among the most competitive in recent years and in a season when the University received 5,390 applications.
Some facts about the entering class:
It includes 53 students in the DePauw School of Music, a 35% increase over last year.
It is 53% female, 47% male.
Nineteen percent of the domestic students are students of color
Thirty-two of the students come from foreign countries.
Fifteen percent have a parent or grandparent who attended DePauw.
There are 50 Management Fellows, 42 Honor Scholars, 22 Media Fellows, 16 Bonner Scholars, 11 Rector Scholars, 10 Science Research Fellows and 8 Environmental Fellows.
For the 2014-15 academic year, DePauw is awarding more than $50 million in financial aid to students this year, the most in its history.
According to Cindy Babington, who became vice president for admission and financial aid in July, ""Admission to this year's class
was particularly competitive, which made it possible for DePauw to be even more intentional about the students we presented with offers of admissions. This class is exceptionally accomplished and well-rounded, and it comes in a year when DePauw and other top schools were in particularly strong competition for the very best students."
Video and audio of Saturday's convocation will be streamed live via this link.
Learn about the first-year experience at DePauw by clicking here.
Back