Honorary Degree Recipients Joseph Horowitz and Rodney Jones Offer Praise for DePauw
May 17, 2015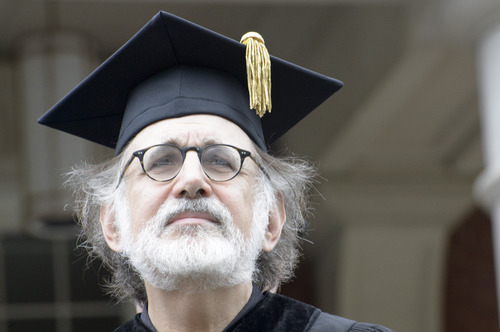 Also: Speech by Ruth Simmons; Ashton Johnson '15 Addresses Classmates; Photo Gallery; Order Commencement DVD
As he received an honorary Doctor of Music degree at DePauw University's 176th commencement today, cultural historian and noted author Joseph Horowitz praised the DePauw School of Music and its 21st Century Musician Initiative (21CM). "I'm confident that whatever transpires here will be of national significance," Horowitz told the crowd gathered in DePauw's Holton Memorial Quadrangle.
"Mark McCoy here at DePauw has a strategy of renewal" for music education in the United States, Horowitz stated of the dean of DePauw's School of Music. "He's rethinking what a music school could or should be in the 21st century. As this is a genuine experiment, its fate is unknown and unknowable."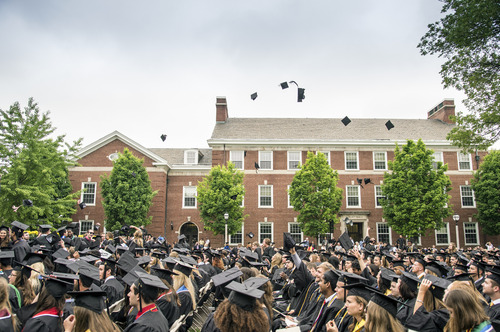 Horowitz, who was on campus last fall as artistic director of the DePauw School of Music's "Dvořák and America" Festival, added, "I'm thrilled to be part of Mark's experiment and I thank you for this honorary degree."
The first of its kind, 21CM is a complete re-imagining of the professional music school curriculum and student experience with the aim to create flexible, entrepreneurial professionals prepared for the challenges of today's music world. Learn more here.
Acclaimed poet Rodney Jones, a finalist for the Pulitzer Prize and the winner of the 1989 National Book Critics Circle Award, was awarded an honorary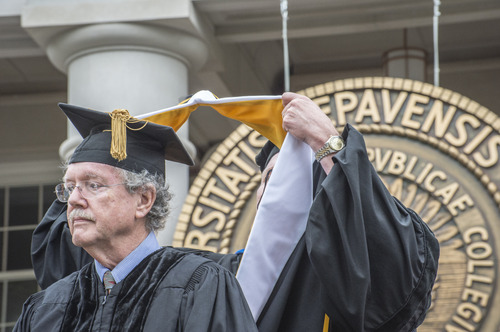 Doctor of Letters degree from DePauw today. In 2013, Jones was the Mary Rogers Field Distinguished University Professor of Creative Writing at DePauw.
"What I discovered in my classes from my students was an attitude toward nature that was balanced well, I think, by something that is natural within us -- our wildness and our desire to make things well," Jones said. "I am proud to join you who are getting your degrees because I feel much a part of what you're a part of, which is the wonderful experience of DePauw."
Ruth J. Simmons, president emerita of Brown University, delivered the primary address to the Class of 2015 today and received an honorary Doctor of Letters degree. A summary of her commencement speech will be available soon.
A total of 504 DePauw undergraduates received bachelor's degrees today.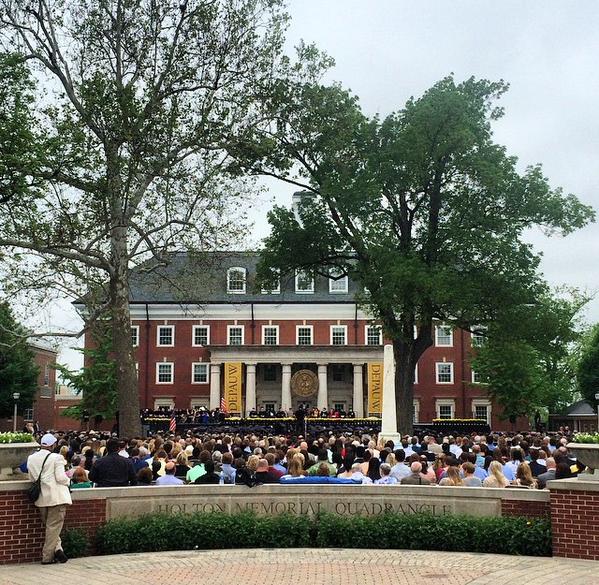 Ashton T. Johnson, this year's recipient of the Walker Cup, addressed her classmates this year, per tradition. Her remarks are noted in this story, with accompanying video.
Graduates and their families who wish to own a high-quality, permanent video of DePauw's 2015 commencement may order a limited edition commemorative DVD. The disc, which is professionally replicated, will include footage of each graduate receiving their DePauw diploma as well as a range of bonus materials. They will include clips of some of the most memorable moments of the past four years, starting with the arrival of the graduating class on campus in August 2011, and concluding with the May 7, 2015 "topping out" ceremony for Hoover Dining Hall. The disc, which is now in production, will also include highlights from Ubben Lecturers who have visited DePauw over the past four years, including Bill Clinton, Dan Quayle '69,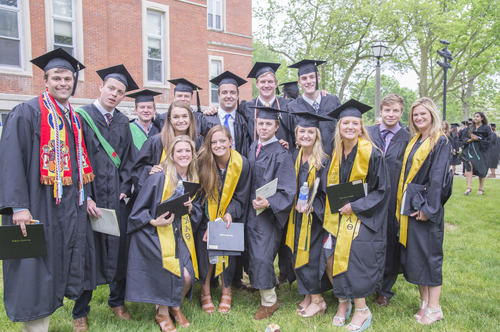 Jane Goodall, Jimmy Kimmel, Ron Paul and Andrew Luck. Orders are now being accepted at $19.95 for the first disc; additional DVDs sent to the same address will be $8 each (7% sales tax will be added to Indiana orders).
An online order form is available here; you can learn more about the disc in this article.
For more information on DePauw's commencement, click here.
Back