Prof. Harry Hawkins Dies at Age 73
September 13, 1984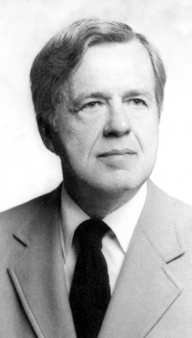 September 13, 1984, Greencastle, Ind. - Harry L. Hawkins, professor emeritus of psychology at DePauw University, died today after a year-long battle with cancer. He was 73 years old.
Hawkins earned an A.B. from Lake Forest College, an M.S. from Purdue University, and an Ed.D. from Columbia University. He joined the DePauw faculty in 1946 after serving in the South Pacific with the Navy during World War II. Prior to that, he taught at Indiana's West Lafayette High School and was psychologist and director of classification at the Indiana State Farm at Putnamville.
Known to students as "The Hawk," Hawkins was known for his highly personalized style of teaching. He selectively chose students to respond to his questions. Swooping like a hawk around the classroom, he'd glide to a stop, place his hand on a student's shoulder, and ask, "Mr. Smith, what do you think?"
But while Dr. Hawkins seemed spontaneous, he carefully prepared for his classes. "I am a great believer in going into the classroom every morning fully prepared with a definite plan of action to follow," he said at his retirement in 1976. "We have only 50 minutes to accomplish something."
Students voted Hawkins DePauw's "Outstanding Professor" in 1970 and 1976.
"I give everything I have to teaching," he said. "Knowing the principles of psychology does me more good in terms of working with students than it does in providing me with teaching material."
The Harry L. Hawkins Memorial Scholarship Fund has been established at DePauw by the professor's family.
Back