Tiger FB Rich Bonaccorsi '85 Brings New Meaning to Phrase "All-Purpose Player"
November 8, 1982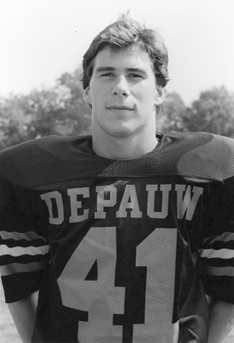 November 8, 1982, Greencastle, Ind. - "On Saturday afternoons, Rich Bonaccorsi is a traditional football hero at DePauw University in Greencastle, Ind.," begins a story published in today's New York Times. Thomas Rogers writes, "The 6-foot-1-inch, 205-pound fullback has scored 11 touchdowns for the Tigers as they won eight of nine games ... But on weekday evenings, the sociology major from Elmwood Park, Ill., is a solitary figure in the basement of Blackstock Stadium, where DePauw plays its football games. There he washes the football uniforms."
''I'm on a Rector scholarship,'' the sophomore tells the newspaper. ''To get financial aid, I have to do the laundry for the team and I also supervise the cleanup of the stadium after home games. I do the laundry by myself. From 7 to 10 P.M., I wash the uniforms of the football team. I figure I have about two and a half hours to study while the wash is being done.''
The Times adds, "The 19-year-old running back on Sundays rounds up half a dozen other grant-in-aid students -- many of them from the football team -- to clean up the football stadium.
''The laundry is really pretty simple,'' Bonaccorsi says. ''It's a good time for me to be by myself and get a lot of studying done. As for cleaning up the stadium on Sundays, that's not too tough, either. As someone reminded me, Saturday's hero becomes Sunday's garbageman.''
Rogers adds, "The garbageman, who hopes to make a career in advertising or business, is currently holding a 3.43 academic average. And there have been no complaints about

the laundry."
The complete article is available here.
You're also invited to visit the official online home of the Tiger football team.
Source: New York Times
Back