Brad Stevens '99 Cites Influence of His College Coach, Bill Fenlon, During Indy Fundraiser
August 28, 2015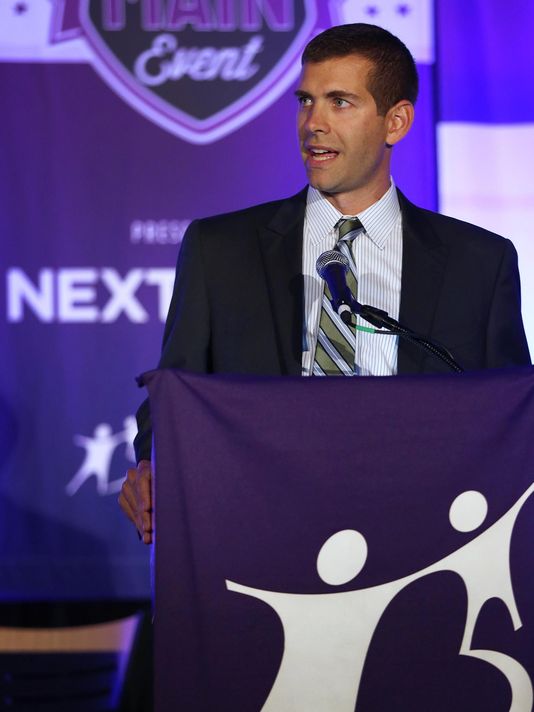 Speaking at a fundraiser last night for Big Brothers Big Sisters of Central Indiana, Boston Celtics head coach Brad Stevens "recounted some of the most important moments of his career, and none specifically involved games," reports the Indianapolis Star. "He said he is more comfortable in the role of mentee than of mentor." (photo: Kelly Wilkinson/Indianapolis Star)
David Woods writes, "He was a star in high school but not at DePauw University, where the coach was (and still is) Bill Fenlon. Stevens said Fenlon taught him how to be a teammate, calling it the greatest lesson he learned as he went into coaching."
After graduating from DePauw with an economics degree and as a Management Fellow, Stevens joined Eli Lilly & Co. as a marketing associate, and recalls advice offered by Kevin Hanna, then an executive with the pharmaceutical giant: "Just do your job to the best of your ability, and let everything else take care of itself."
Woods notes, "Stevens, the 38-year-old coach of the Boston Celtics, said that theme has defined his every day. If Butler basketball players wondered why their coach always used the acronym DYJ -- Do Your Job -- that is why."
Access the complete article at IndyStar.com. The event was also covered by WISH-TV.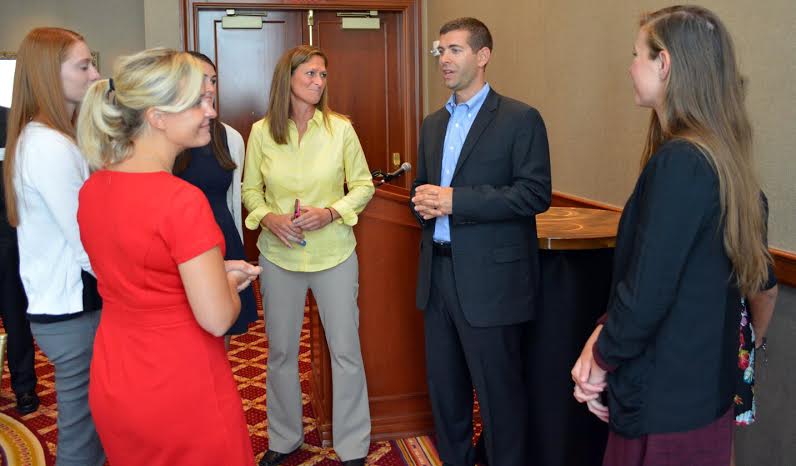 Earlier Thursday, Bradley K. Stevens, a 1999 graduate of DePauw, received the University's Young Alumni Award at a private luncheon in downtown Indianapolis. Coach Fenlon was among those who spoke at the event, which is recapped here. (at left: Stevens chats with DePauw friends at the luncheon)
On April 13, 2010, Brad Stevens returned to his alma mater to deliver the Robert C. McDermond Lecture.
Back