Fulbright Award Will Send Senior Hattie Blair to South Korea
April 13, 2016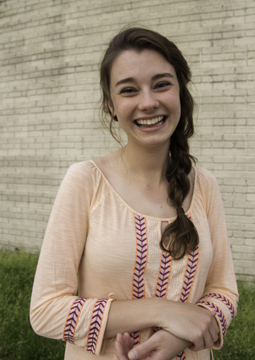 DePauw University senior Hattie E. Blair is the recipient of an English Teaching Assistantship from the Fulbright U.S. Student Program competition and will spend the 2016-17 academic year teaching English in South Korea.
The United States government's flagship international exchange program, the Fulbright Program is designed to increase mutual understanding between the people of the U.S. and the people of other countries. The Fulbright Program provides participants -- chosen for their academic merit and leadership potential -- with the opportunity to study, teach and conduct research. It operates in more than 160 countries worldwide and has provided approximately 360,000 participants with the opportunity to study, teach or conduct research in each others' countries and exchange ideas. Approximately 8,000 grants are awarded annually.

Blair is the second DePauw senior to be awarded a Fulbright ETA. Madeline N. Hawk will also spend the coming academic year teaching English in South Korea.
Blair, an English (writing) major, states, "In formulating my application, I strove to express two important things that I believe in: First, that a truly good teacher is, at all times, a student in some sense, learning from those around her. Second, that learning to communicate in a second language can be a joy, a source of creative strength, and not always an embarrassment."
She adds, "I look forward to integrating these beliefs into my year of teaching and intend to establish a Writing Center within my school that will function after hours,
giving students and community members chances to practice their English through creative outlets, including poetry, memoir, and other forms."
Looking toward the future, the senior says, "After I return from South Korea, I plan to enroll in a student affairs or international education graduate program, with the hopes of someday working as an international student services or international admissions employee at a liberal arts university."
The Fulbright Program was established by the U.S. Congress in 1946 under legislation introduced by the late Senator J. William Fulbright of Arkansas. It is sponsored by the U.S. Department of State's Bureau of Educational and Cultural Affairs , which works with private non-profit organizations in the United States and with U.S. embassies and binational Fulbright Commissions abroad to administer the Program. Policy guidelines are established by the presidentially-appointed J. William Fulbright Foreign Scholarship Board, which also selects the recipients of Fulbright awards.
Learn more here.
DePauw University is listed among the "Top Producers of Fulbright Awards for U.S. Students, 2015-16" in the Chronicle of Higher Education. DePauw has been cited as one of the USA's top producers of Fulbright Fellows five consecutive times and in nine of the last 10 years.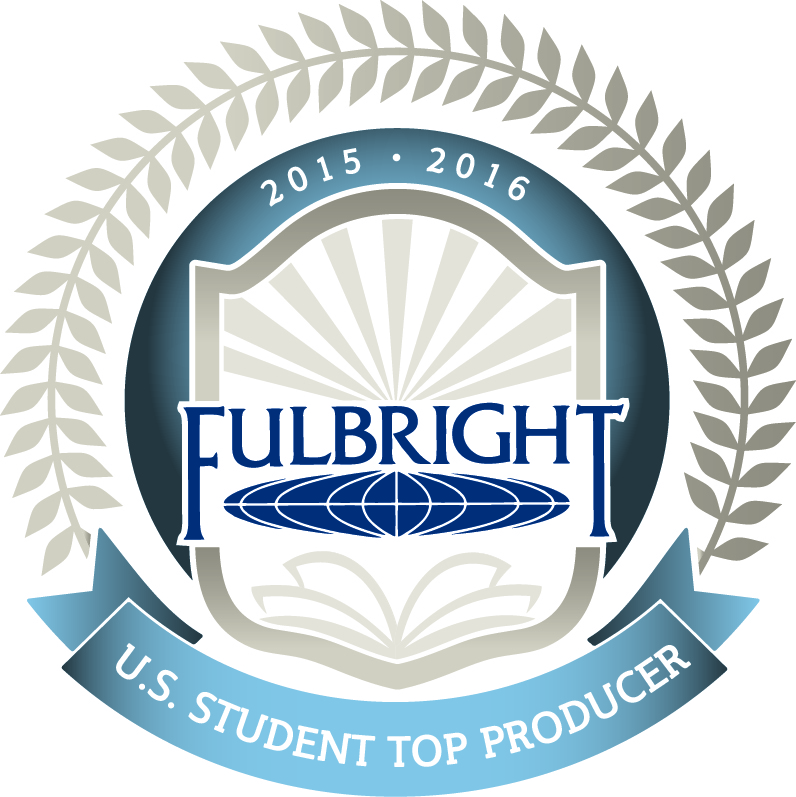 See the names of DePauw's Fulbright recipients here or visit the University's Fulbright page.
DePauw students and alumni who are interested in applying for Fulbright Awards may contact Jason D. Fuller, associate professor and chair of religious studies and director of the Asian studies program, or Kate Knaul, assistant dean of experiential learning and director of national fellowships and awards.
DePauw University ranks #4 among the nation's baccalaureate institutions in the number of students who studied abroad in 2013-14, according to the 2015 Open Doors Report on International Educational Exchange. Read more here.
Back