21CMposium: DePauw School of Music Leads with Boots on the Ground Effort
September 21, 2016
by Mark Rabideau, Director, 21CM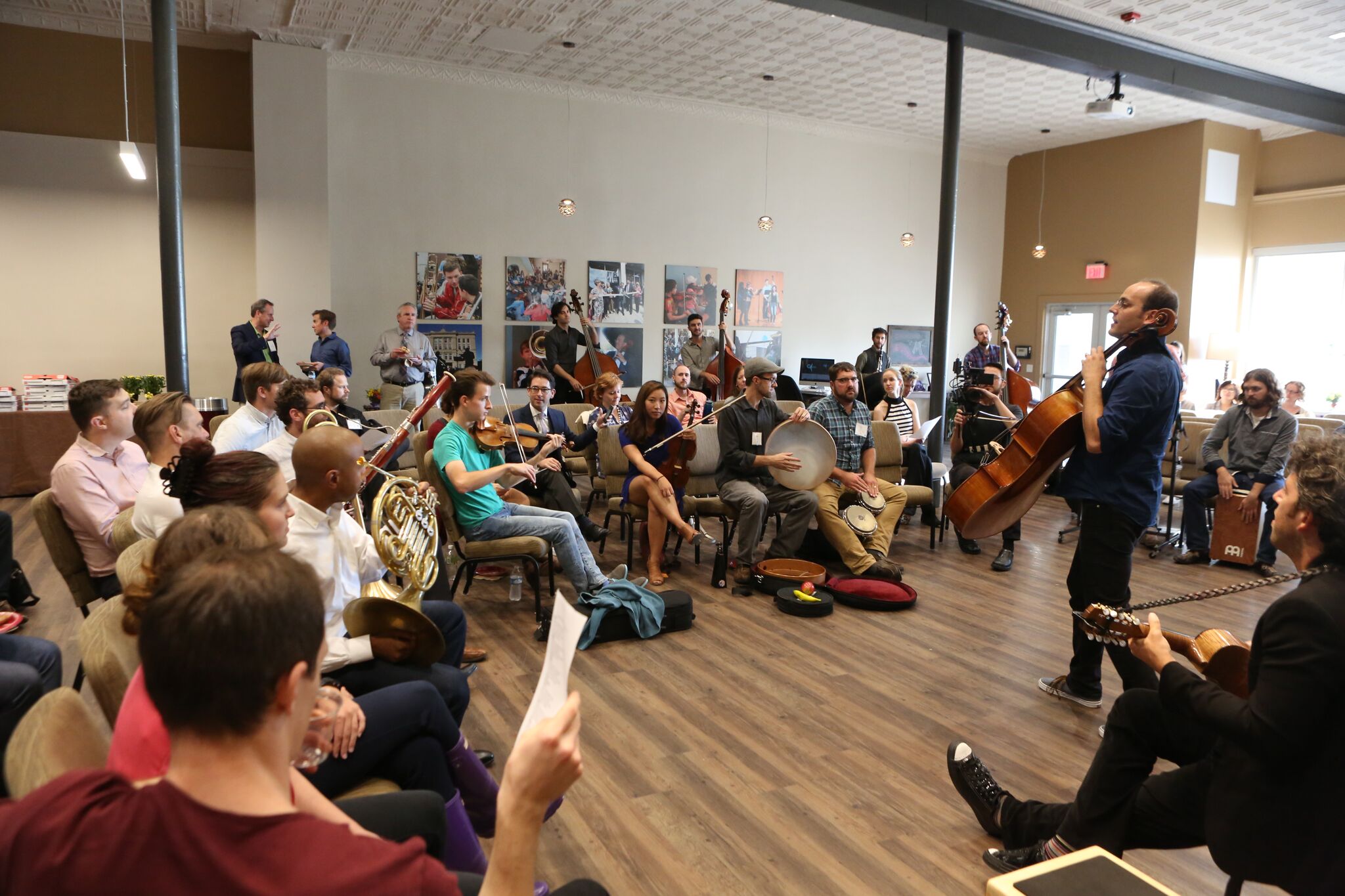 To reimagine how we train the next generation of musicians for a 21st-century world – that was the simple premise behind 21CM. The brainchild of a world famous artist, a brilliant businessman and a forward-thinking music school dean, 21CM was the entrepreneurial response to a paradox.
Music is embraced throughout every culture without boundaries. An increasingly connected world offers influence and inspiration for opening our imaginations, as technology provides unprecedented access to global audiences. Communities gather around music to mourn collective hardships and celebrate shared moments, and every parent understands that music enhances their child's chances to succeed in life. Yet it has never been more of a struggle for musicians to make a living at their art – at least when following traditional paths.
By any measure, DePauw's launch of 21CM has advanced the national dialogue about the role musicians must play in modern society. 21CM.org, an online music journal, now attracts nearly 20,000 unique, monthly readers. And if New York Times writer, Greg Sandow has it right, "It's no longer disputable. DePauw is leading the conversation on change."
21CMposium (September 9-11, 2016) was a boots on the ground effort to bring the conversation to DePauw's campus in the form of an international dialogue. Conceived of, by now President Mark McCoy, this "conference like no other" was a deliberate effort to assemble the most innovative artists, profound thinkers, and dynamic change agents to collectively reimagine our shared, most promising future.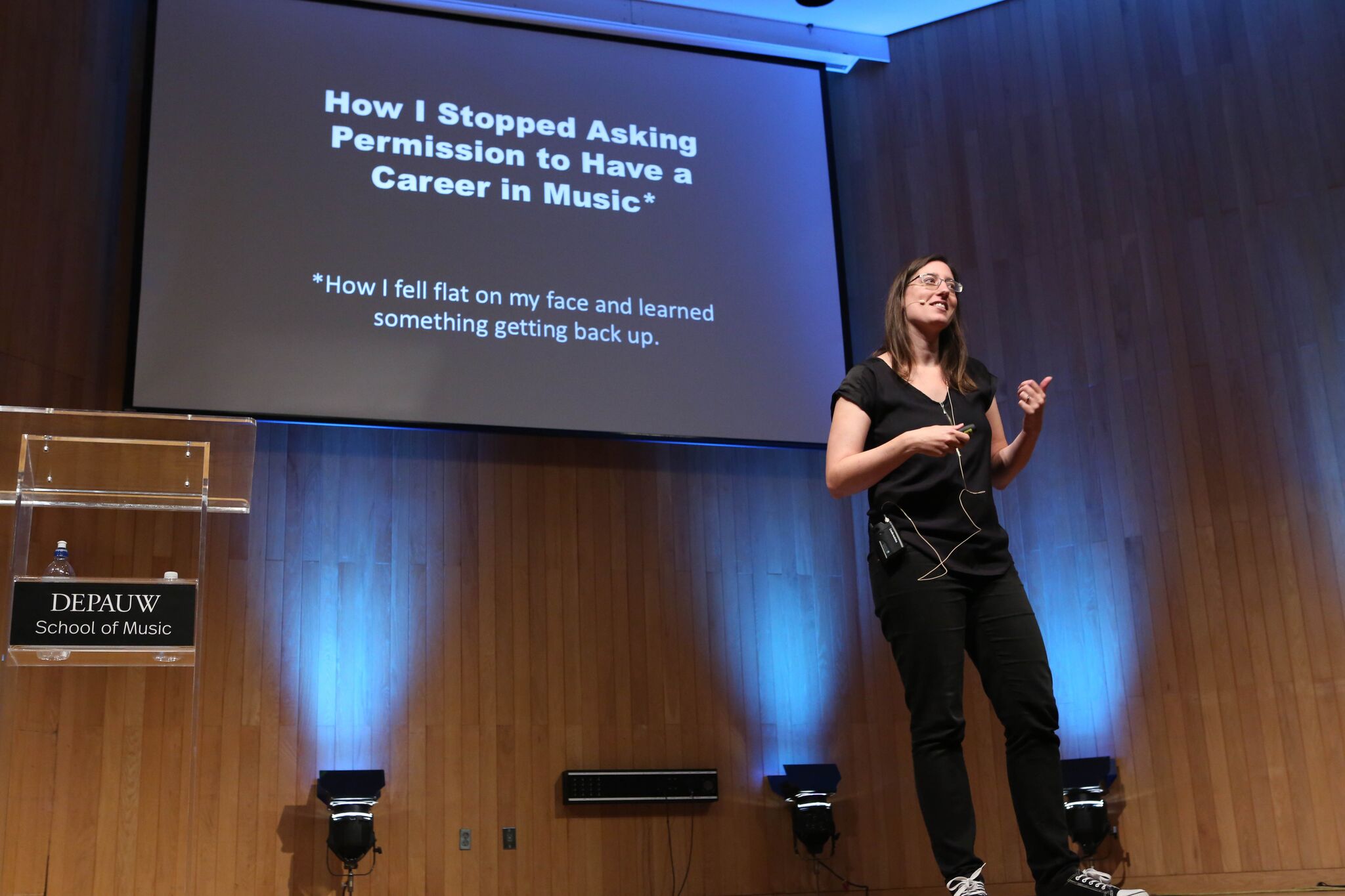 Gathered were the Kronos Quartet, the "inventors" of 21st-century performance practices, and Decoda, the adventurous, nimble Gen Xers that followed. New Amsterdam Record's Judd Greenstein, Stanford Thompson of Play On, Philly! and Sarah Robinson, author of Clubbing for Classical Musicians, were among many other big thinkers and doers.
Change Sessions were ledby DePauw trustee Judson Green; Interlochen Center for the Arts president Jeff Kimpton and Ayden Adler, DePauw's newly appointed dean of the School of Music (among others), sharing ways forward with more than 60 music executives from across the country, including representatives from such prestigious institutions as University of Michigan, Curtis Institute of Music, Eastman School of Music, and New England Conservatory.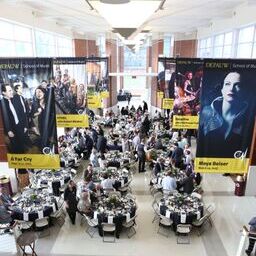 Hands-on workshops engaged our students and emerging artists from around the globe. DePauw music majors performed during a mixer in the Great Hall. And DePauw music faculty members Peter Seymour, Kristina Boerger and Eliza Brown were joined by a panel of judges that included renowned concert pianist, Awadagin Pratt, and Le Poisson Rouge, founder Justin Kantor, to name the winner of the inaugural 21CM Emerging Artist Competition – 9 Horses – an innovative trio out of NYC that embraces culturally diverse influences, improvises, composes and arranges original works, and exemplifies the highest levels of artistry.
President Mark McCoy delivered the closing Talk21, challenging more than 300 attendees from 32 states and as far away as India, Greece, Japan, France and Egypt, to galvanize in a shared commitment to respond to the challenges that lie ahead and to seize the opportunities afforded by new technologies and the entrepreneurial mindset.
What did we walk away with? A shared belief in a future where artistry and advocacy are stories we tell with equal conviction, improvisation and global traditions are as fundamental as excellence and innovation, and a commitment that music's healing powers must be afforded to everyone, with special attention to those at the margins of society.
As the symposium spilled over from campus into the Greencastle community, there was a clear sense that if we want to run fast, we run alone, but if we are to run far, we must run together. On DePauw's campus, this initiative is unfolding as an ongoing conversation with the faculty about curricular development, the expansion of the School of Music's Dean's Cabinet to include leadership training for music majors, and a continued effort to listen to voices from within, beginning with our own students.
"I am so incredibly appreciative and awestruck by the artist, individuals and institutions that were represented at the symposium. This has honestly been one of the most impactful weekends I've had at DePauw."

– Molly McGuire '18
Back