DePauw University Formally Inaugurates its 20th President, D. Mark McCoy
October 29, 2016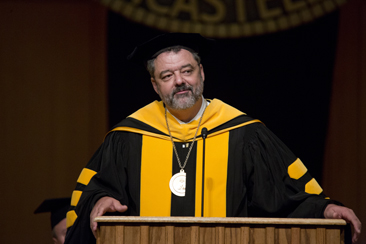 "Ralph Waldo Emerson told us that to know even one life has breathed easier because you existed is to have succeeded," noted D. Mark McCoy this morning as he was formally installed as DePauw University's twentieth president. "By that definition, DePauw has succeeded a hundred thousand times over. DePauw has been a beacon of hope and opportunity that has has changed countless lives and continues to change lives every day. And our good and important work will never finish."
About 700 people -- including DePauw alumni, faculty and staff, and members of the Greencastle community were on hand for this morning's inauguration ceremony in Kresge Auditorium. The theme of the program,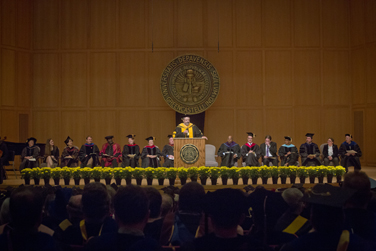 "Remember DePauw," underscored the University's long history and traditions while looking toward a future where the impact of the institution and its graduates is even greater.
Dr. McCoy noted, "Twenty times in 180 years DePauw has found itself at a moment like this, a moment to reflect. And I would like to use my portion of this moment to reflect on the idea of DePauw and the ideal DePauw. Between the idea and the ideal exists a delta -- a distance -- that we want to see ever smaller every time we meet at a moment such as this. And that work remains before us."
An array of speakers preceded the new president, including Mac Dixon-Fyle, Sherry Mou, Tamara Beauboeuf and Harry Brown, representing the DePauw faculty; Jeannette Johnson-Licon, speaking on behalf of the staff; student body president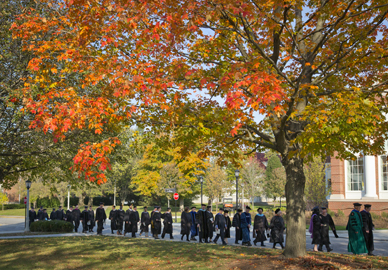 Claire Halffield '17; and New York Times columnist James B. Stewart '73, delivering a message from DePauw alumni.
Representatives from 14 other colleges and two higher education associations attended the event. A procession (seen at right) made its way into the Green Center for the Performing Arts on a spectacular fall day.
President McCoy called the morning "a great community moment," and the mayor of Greencastle, Bill Dory, was the first speaker. He recalled how, in 1836, the citizens of Greencastle raised $25,000 (about 15% of the collective gross income and the equivalent of $25 million today) to convince the Methodist Church to locate a new college here. In the years since, "DePauw and Greencastle have prospered together," Mayor Dory (seen below) said.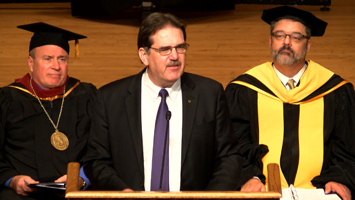 Professor Joseph Heithaus read a poem, Morsel of Light, that he wrote especially for President McCoy's installation ceremony. And student musicians contributed performances to the event.
The keynote address was delivered by Vernon E. Jordan Jr., the legendary civil rights leader and presidential adviser, who is a 1957 graduate of DePauw. Calling McCoy "an excellent choice," Jordan noted, "Dr. McCoy, you are no stranger to this campus or community. Given your remarkable tenure as dean of the DePauw School of Music for the past five years I know, I am confident, that you will continue to serve and lead this great university with great distinction."
In his powerful remarks, Jordan, an attorney who served as president of the National Urban League and as adviser to President Bill Clinton, said, ""I love DePauw,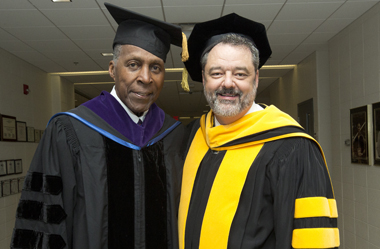 because DePauw prepared me to lead the life I have been blessed to live ... While I loved DePauw when I was a student, I love DePauw more today because of the way it has changed. Today's DePauw is more diverse, more open, more in tune with what America is and can become."
An advisory member of DePauw's Board of Trustees, Jordan also spoke of what he called "the rubble" left behind by the civil rights movement and "to make America greater than it has ever been before."
A separate summary of Vernon Jordan's remarks is available here, along with video of his speech.
Mark McCoy officially assumed DePauw's presidency on July 1, 2016. He was appointed the University's twentieth president March 7 following a national search led by a committee of DePauw alumni, faculty, students and administrators.
Dr. McCoy came to DePauw in August 2011 as dean of the DePauw
University School of Music and led an effort that raised the national profile of the the sixth-oldest School of Music in the nation and invigorated its offerings with the creation of the 21st Century Musician Initiative in 2013. He remains committed to engaging the Greencastle and Putnam County communities with the life of the University, with an important example of that outreach being the 2015 opening of Music on the Square, located in the heart of downtown Greencastle. (photo: President McCoy on left and President Emeritus Robert G. Bottoms on right, flanking former chairs of DePauw's Board of Trustees)
In this morning's address, McCoy said to students, "You, not I, are the reason that we are here today, and all of the work that happens on this campus is for you and to make certain that you have the most powerful educational experience that we can provide you."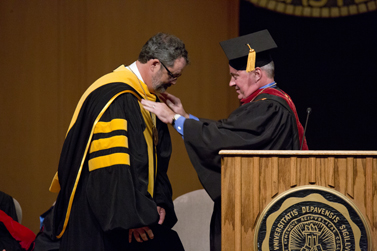 The new president declared, "When people speak of DePauw, they refer to many things -- the place, East College, Emison, Peeler, the curriculum -- but DePauw is, most importantly, our people. If you have taught here, thought here, lived here, loved here, worked here, touched here you are DePauw. We, all of us gathered together today, are DePauw, and it is to us then to strive ceaselessly and caring fully toward the ideal DePauw."
McCoy added, "The ideal, much like the horizon, is always just out of reach. Robert Browning taught us that our reach should exceed our grasp, else 'what's a heaven for?', and that's an excellent mantra for DePauw. Several years ago a car company developed a tag line that makes me think not of cars, but of DePauw: 'the relentless pursuit of perfection.' As DePauw -- as we -- pursue perfection we bring DePauw ever closer to the ideal. When we diversify our faculty, staff and students, we move closer to the ideal. When we create the McDermond, Pulliam, Hubbard and Tenzer Centers and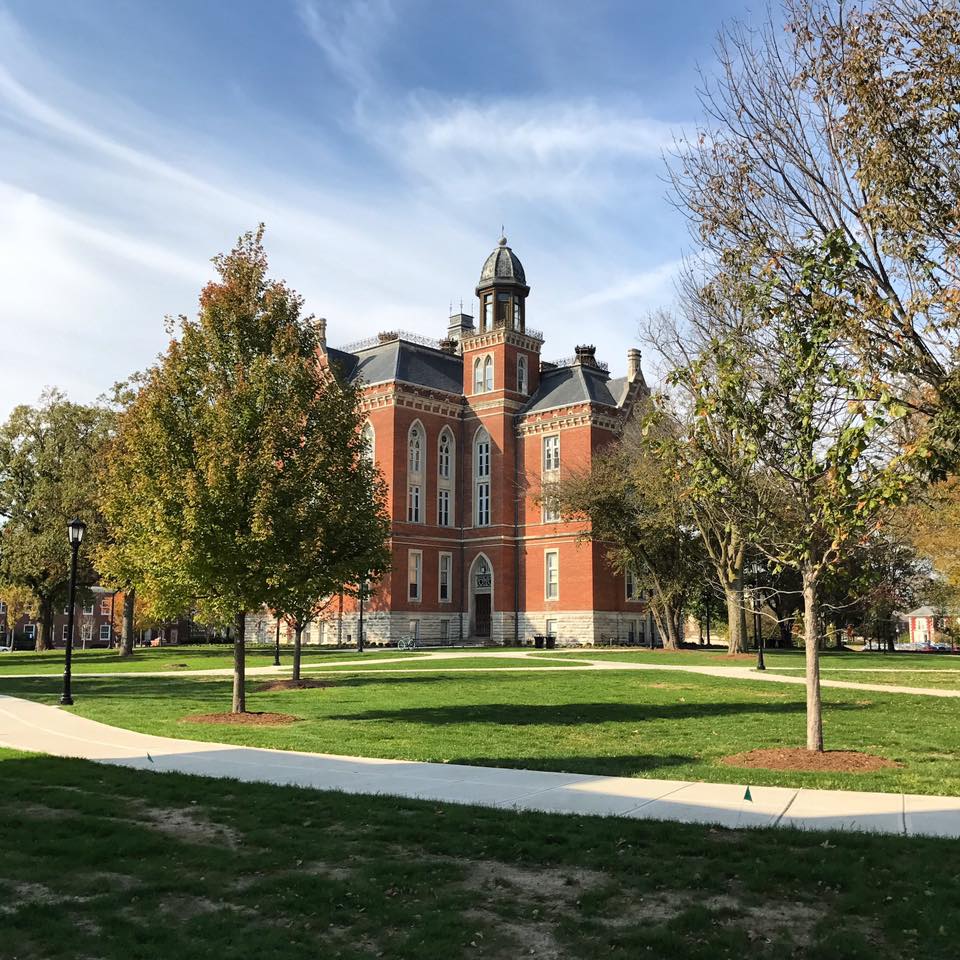 the Prindle Institute, we move closer to the ideal. When we strive to make every student on this campus feel welcomed and wanted we move closer to the ideal. When we realize that there is no 'them' -- we are only 'us'-- and we are DePauw, one DePauw, we move closer to the ideal."
The inauguration took place as DePauw celebrated it's annual homecoming, Old Gold Weekend. The festivities began Thursday evening as the portraits of three "powerful and impactful" alumni couples were unveiled. The next night, the new Hoover Dining Hall was dedicated. After the installation of President McCoy was completed, a luncheon was held in Hamilton Park adjacent to the athletics campus, where several games took place in the afternoon.
McCoy concluded his remarks, which were followed by a standing ovation, with, "And so we dedicate ourselves, at this rare moment of reflection, to this work. As we remember DePauw, we must remember, DePauw, that our work is neither perfect nor complete but is built upon generations of good and noble effort; efforts that fuel the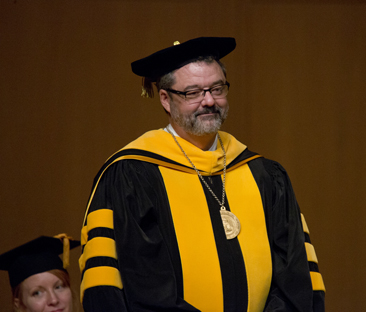 determination to be ever more perfect, to relentlessly strive toward the ideal DePauw. The next generation of Holtons and Rectors and DePauws are among us today and being created in our classrooms today to ensure that our pursuit of the ideal DePauw never stops. The next generation of Betty Lockes and Percy Julians and Ferid Murads and Vernon Jordans are among us today and being created in our classrooms today to remind the world why DePauw is so necessary and so needed.
"This is good and noble work and I, and every one of us here today, are blessed to be a part of it. I am honored and humbled to work with each of you to move us ever closer to the ideal DePauw."
Back