Report: JaMarcus Shephard '05 to Join Purdue Football Coaching Staff
December 7, 2016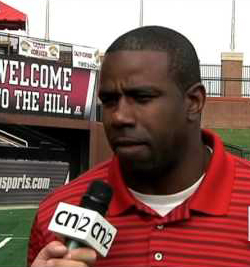 The Seattle Times is reporting this afternoon that JaMarcus Shephard, inside receiver coach for the Washington State University football program and 2005 graduate of DePauw University, will join Purdue University as an assistant coach. He will rejoin Jeff Brohm, Purdue's new head coach, who had Shephard as an assistant at Western Kentucky.
"Geographically, the move makes sense for Shephard," writes Stefanie Loh. "He grew up in Fort Wayne, Ind. and played his college football at Division III DePauw University in Indiana, which is about an hour south of West Lafayette, where the Boilermakers are based. Shephard, 32, has also formerly worked for the NCAA, which is headquartered in Indianapolis. Brohm gave Shephard his first full-time assistant coaching job in 2013, when he promoted him from volunteer assistant to wide receivers and special teams coach."
Loh says that Shephard is "known for his energetic coaching style."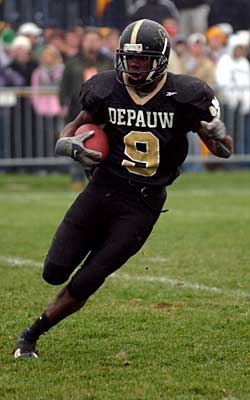 Access the item at the newspaper's website.
A standout wide receiver on the DePauw football team and a physical performance (sports medicine) major, Shephard graduated #3 all-time in school history with 3,997 all-purpose yards, and spent a semester interning with the NFL's Philadelphia Eagles. His coaching career began at Northrop High in Fort Wayne, Ind., his alma mater. He then went to Broad Ripple High School in Indianapolis and became an assistant track coach at DePauw.
From 2005 to 2007, Shephard worked for the NCAA, then spent four years working at the National Center from Drug Free Sport. He joined Western Kentucky's football staff in 2011 as a volunteer assistant, then was defensive quality control coach for two seasons before becoming wide receivers and special teams coach.
The captain of both the Tiger football and track and field teams, JaMarcus Shephard earned his master's degree in recreation and sport administration from Western Kentucky.
Source: Seattle Times
Back