Impact of Mentor Lisa Henderson '82 Noted in Newspaper Story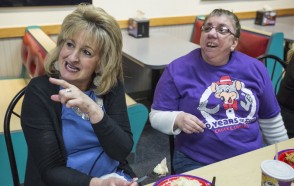 June 1, 2017
A South Bend Tribune story on Susan Wiseman, a Chuck E. Cheese employee who has Cornelia de Lange Syndrome, notes that "for all of her 20 years at this job, Susan has found support in a mentor, Lisa Henderson, a deaf woman whom (the newspaper's) readers had grown to know in a 14-part series in 2001. Lisa was having surgery to install cochlear implants so that she could hear for the first time since she was 6. Now 57, Lisa still reads lips. She hears more sound, but her brain can't always tell what it means."
Lisa (Wenger) Henderson, a 1982 graduate of DePauw University, "works as an employment consultant for people with special needs through the nonprofit Corvilla, based in South Bend," writes Joseph Dits. "She spends about 10 hours per month with Susan at Chuck E. Cheese's, often observing and chatting. But she also serves as a key liaison and troubleshooter between Susan, her bosses and her family, which keeps Susan earning a paycheck from 11 a.m. to 5 p.m. five days a week."

Henderson says,"If I'm having a bad day, I come in here and Susan brightens my day."
Access the complete article at the Tribune's website.
Source: South Bend Tribune
Back