Teams of Coach Brad Stevens '99 Have "Overachieved at Overachieving": Wall Street Journal
May 6, 2018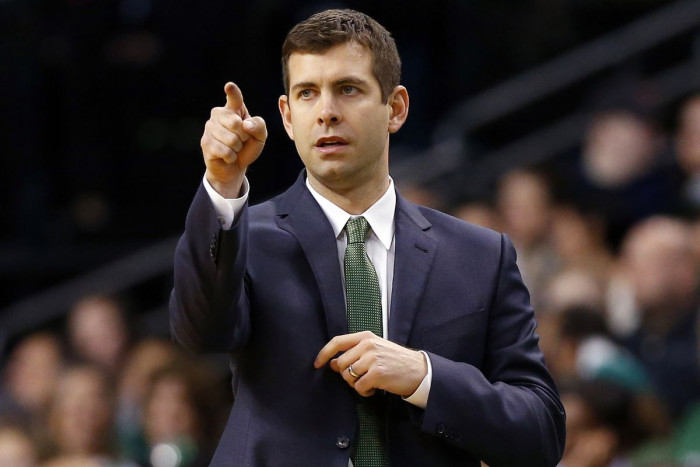 "They overachieved at overachieving. They made a habit of beating teams that were better than them. They thrived after the unexpected absence of Gordon Hayward, and their success was unlikely enough that it was only natural to wonder how much of it had to do with their coach: Brad Stevens," begins a Wall Street Journal article on the 1999 DePauw University graduate. "The Butler Bulldogs of 2011 were so much like this year's Boston Celtics they might as well have played on a parquet floor. Before he was maybe the best coach in the NBA, Stevens was maybe the best coach in college basketball," writes Ben Cohen in a piece headlined "The Boston Celtics Keep Winning. The Butler Bulldogs Know Why." (top photo: Winslow Townson/USA Today)
The Celtics lead the Philadelphia 76ers three games to none in the second round of the NBA's Eastern Conference playoffs.
"The Celtics and the Cleveland Cavaliers have won nine more games over the last two years than their statistical profiles would have predicted, which is the most in the NBA, according to Basketball Reference. Why? Cleveland has LeBron James. Boston has Brad Stevens. And there are few people who can explain what that means -- exactly how much Brad Stevens is worth to the Celtics -- as well as his Butler players."
Cohen later writes, "After majoring in economics at DePauw University, where he was a role player on a Division-III team of role players, Stevens left the pharmaceutical giant Eli Lilly for an unpaid position in Butler's basketball office and planned to work at Applebee's until a paid job opened as the team's director of basketball operations. He worked his way up to assistant coach and, by the time he was 30 years old, Butler's head coach. In his third season, when Butler played Duke for the 2010 national championship, Celtics general manager Danny Ainge was sitting with Boston owner Steve Pagliuca and told him the best coach in college basketball was on the court that night. He wasn't talking about Mike Krzyzewski. The Bulldogs playing for the national championship one year was improbable enough. That they did it again the next year was one of the greatest feats in the history of the sport."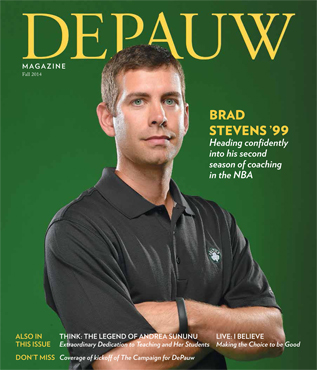 The complete story is available at the Journal's website.
"What does Brad Stevens have that so many others have lacked?," asks Bob Ryan in the Boston Globe. "It's not one thing, of course. It's a package. It starts with technical knowledge. He just plain knows the game, inside-out. Selling your product to the players is always the key, and Stevens can do that. He is flexible; witness the countless lineups and combinations we've seen. He teaches basketball, not the 'Brad Stevens System,' because there is no 'Brad Stevens System.' In this, he is reminiscent of Mike Krzyzewski. You know, of course, that Brad is clearly on track to someday being coach of Team USA, if that's what he wants. Oh, one more thing. He plays down his role. He makes it clear to the players that he's The Boss but he doesn't think it's 'The Brad Stevens Show.' That helps."
At DePauw, Brad Stevens was an economics major and Management Fellow and played four years on the Tiger basketball team, earning all-conference and academic all-conference honors. He took an executive track job at Eli Lilly & Co. after graduation but found that he missed basketball, and volunteered to assist the Butler University program. Soon he was hired by Butler, and on April 5, 2007 -- at age 30 -- he was appointed head coach of the Division I men's basketball program.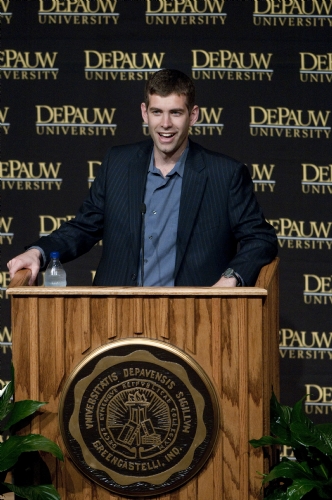 Stevens led Butler to a 166-49 record, including a 12-5 record in the NCAA Men's Basketball Championship and two consecutive trips to the national championship game (in 2010 and 2011). His 166 wins are the most for any NCAA Division I basketball coach over the first six years to start a career. He was named the head coach of the Boston Celtics in July 2013, becoming the youngest head coach in the NBA.
"My experience at DePauw was about as beneficial as any experience I've had," he told ESPN.com in November 2013.
On April 13, 2010, Stevens returned to his alma mater to deliver the Robert C. McDermond Lecture.
In 2015 Brad Stevens received the University's Young Alumni Award at a luncheon in downtown Indianapolis. At a fundraiser that evening, Stevens related how his college coach, Bill Fenlon, has impacted his life and career.
Source: Wall Street Journal
Back