Grace Kestler '12 Selected to Participate in Panel at Young Democrats of America National Convention
July 10, 2019
Grace Kestler, a 2012 graduate of DePauw University, "will address a room full of young Democrats later this month," reports Indiana's Columbus Republic. Kestler, who is a candidate for the Columbus City Council, has been "named a panelist at the Young Democrats of America National Convention in Indianapolis July 17 through 20 ... [She] will speak about Run for Something's 'How Indiana Changed What a 2019 Candidate Looks Like' discussion panel."
Shelby Mullis writes, "[Kestler] was approached by representatives of Young Democrats of America at the Hoosier Hospitality Dinner in June about playing a role in the national convention. It just so happened that Run for Something was also searching for candidates to serve on its scheduled panel. During the panel, Kestler will join other young Democrats running for public office in a conversation about how crucial it is for young people to involve themselves in the political process."
The 29-year-old Kestler, who majored in communication and anthropology at DePauw, tells the newspaper, "I want to be a part of shaping my generation's future and supporting those who have lived in Columbus as well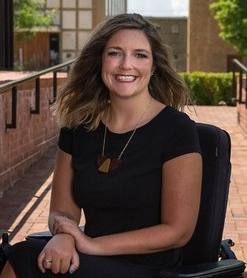 as considering how we can attract new people to live in our city."
She adds, "The decisions we're making right now will impact everyone in our community, but we'll have to live with those decisions for many years to come. It's really important for young people to get engaged -- that's why I got engaged."
You'll find the complete article at the paper's website.
The founder of Grace Kestler Consulting and community outreach coordinator for Advocates for Children – CASA, Kestler recently was selected as a 2019 Women in Leadership honoree by the Columbus, Indiana Chamber of Commerce. Read more here.
Back