Student Post Office
Located at 408 S Locust St in the lower level of the Union Building.
The Student Post Office receives all incoming mail for the student body and provides a variety of mail related services. Students are assigned a personal mailbox (UB Box) which remains theirs for their entire time at DePauw. Students can access their UB box number and the combination by logging into e-Services and checking under the Campus Life section. All UB boxes should be kept locked and secured as DePauw University is not responsible for loss or damage to any mail items. Students should never leave their UB Box open and should spin the dial when they close the door to reset the lock. Students should check their UB Box regularly and remove mail items. Boxes are small and are not designed as storage. Students whose mail exceeds the capacity of their mailbox will receive a notification and mail may be returned to the sender.
! * ! * - Attention - Amazon Deliveries - * ! * !
We are not able to accept Amazon packages that require a one-time code. If a one-time code is required, the student is responsible for providing a valid cell phone number to Amazon and connecting with the delivery driver for acceptance of their package. The staff at the Student Post Office will not accept these packages and they will be refused. This requirement by Amazon exceeds our reasonable ability to comply and we appreciate your understanding.
Special Start of Year Hours
Thru August 17th, Monday to Friday 1 PM to 4:30 PM
Friday, August 18th - 8 AM to 4:30 PM (Closed 11 to Noon for lunch)
Saturday, August 19th - 9 AM to Noon
August 21st thru August 25th - 8 AM to 4:30 PM (closed 11 to Noon for lunch)
August 28th thru September 1st - Noon to 4:30 PM
Closed Monday, September 4th
Returning to normal hours of 1 PM to 4:30 PM Monday to Friday on Tuesday, September 5th
Students may purchase stamps at the USPS located two blocks off campus on Walnut Street, online at USPS.com, or at local retailers such as Kroger.
Students who are currently off-campus are not allowed to ship items to their UB address. We will NOT allow friends to pick up packages for students off-campus. Those packages will be forwarded (if able) or returned to the sender. Students not currently on campus should redirect their mail to their home/current address.
The Student Post Office will be using stanchions to direct traffic flow. Please space accordingly and obey the signs posted to assist with social distancing and appropriate guidelines.
Please email us at studentpostoffice@depauw.edu with any questions or concerns.
LOCAL DELIVERIES
We are unable to accept localized deliveries of flowers, pharmacies, grocery stores or restaurants.
We only accept items that are shipped and boxed appropriately.
These restrictions are in place due to space restrictions and cross contamination concerns.
GREEK STUDENTS
Please note that you will still receive interdepartmental and campus mail via your UB box. You should check it regularly even if you have your regular mail sent to your Greek address.
Receiving Mail and Packages
All packages and Regular postal mail comes directly to DePauw. All mail items, including packages, sent to students must be addressed as follows:
Student's name
UB # __________
408 S. Locust Street
Greencastle, IN 46135
Students must bring their DePauw issued Student I.D. to receive any packages.
When packages are processed, students will receive one of two emails. Students should add these two email addresses to their contacts so that is it not filtered to spam:
no-reply@pb.com
no-reply@packcity.com
Email version One (below) indicates that the package is ready to be picked up at the service counter of the Student Post Office: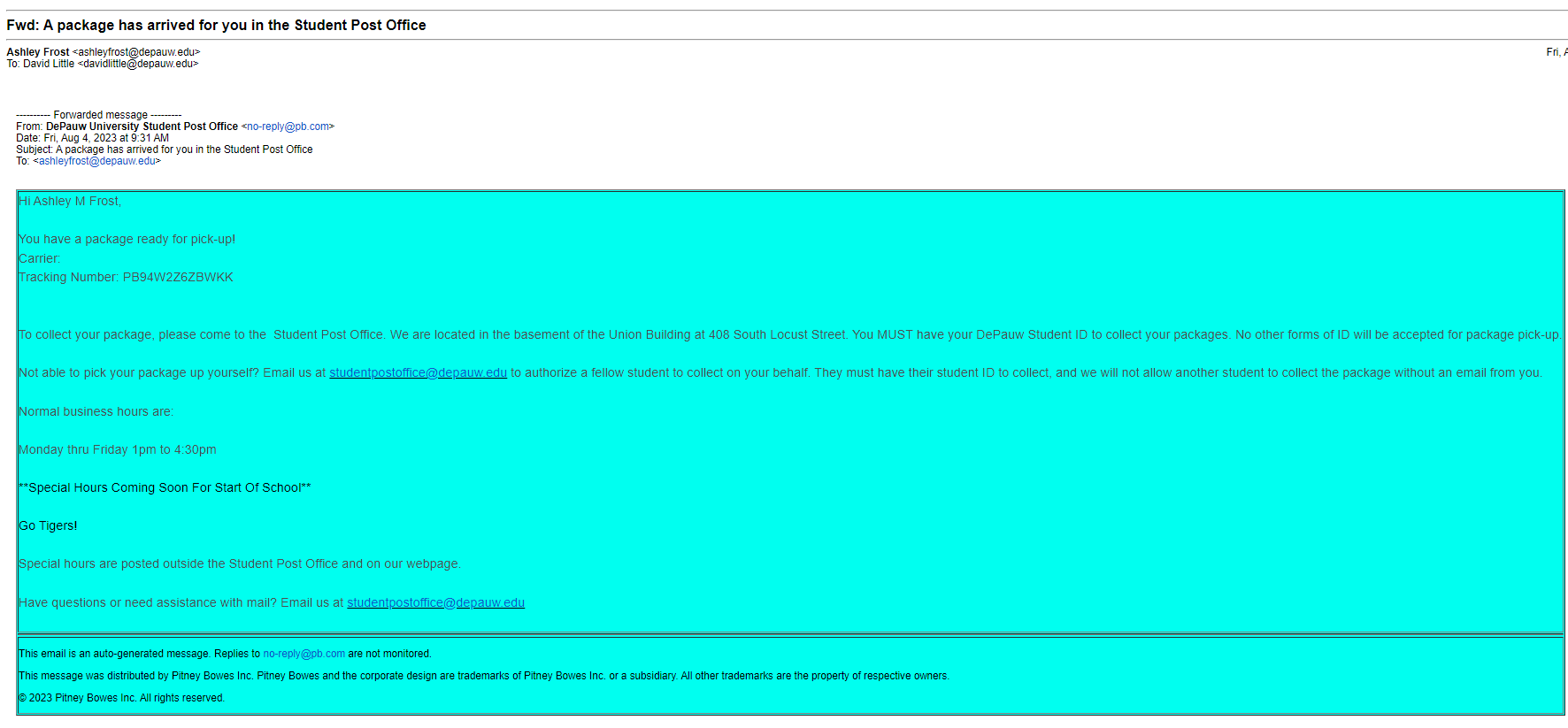 Email version Two (below) indicates that the package is ready to pick up from our Parcel Lockers located within the Student Post Office across from the service counter, Please note - for the bar code in the email to work - you must have your device set to a white background. The Parcel Locker system is accessible anytime the Union Building is open:
From: Packcity no-reply@packcity.com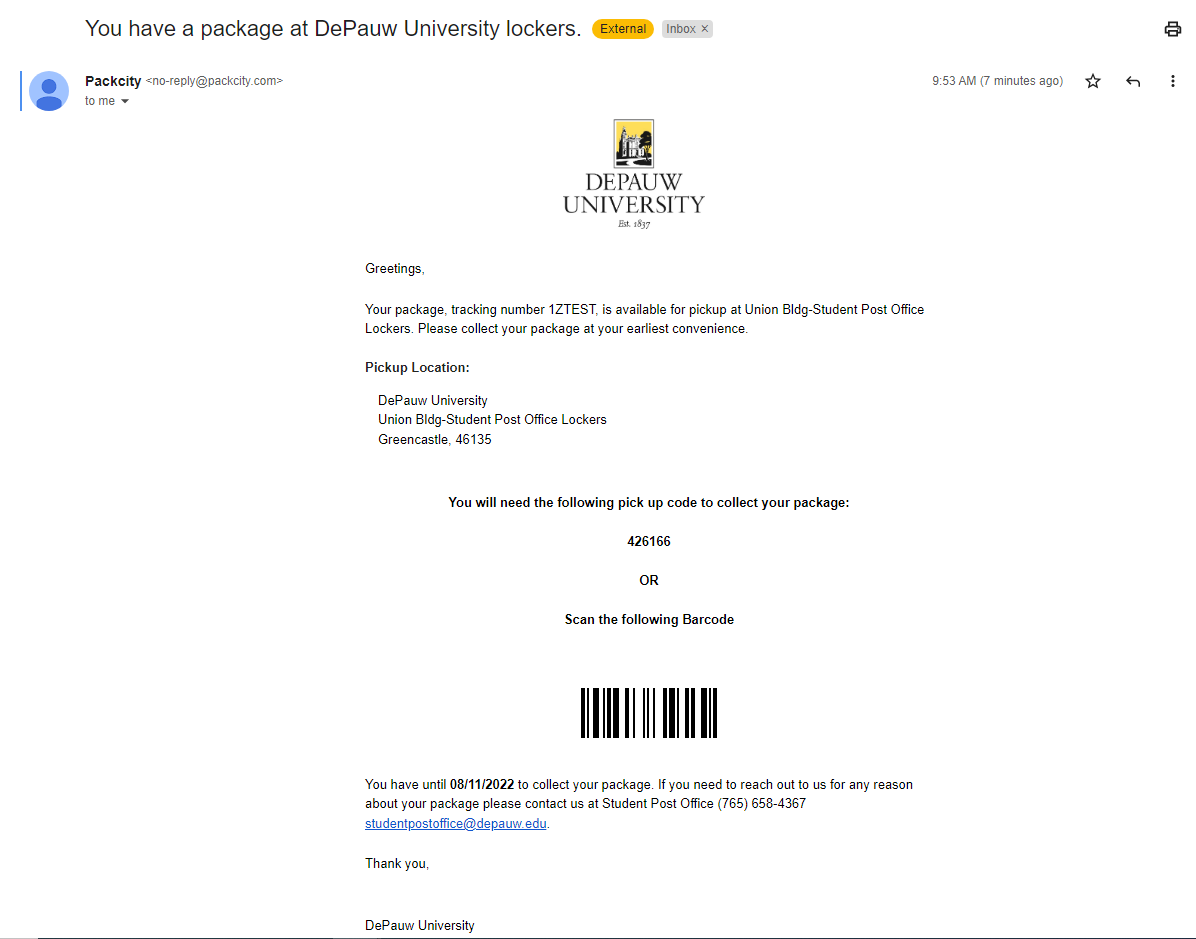 Packages will remain in the Parcel Lockers for a time frame of 2 days, after which they will be added to the Student Post Office inventory (where they will receive an email) and students will need to pick them up from the service counter during operating hours.
Students should NOT come to the Student Post Office when they are notified of a delivery by a carrier or shipper and should wait until they receive one of the emails indicated above. Packages are not always immediately available as we receive large quantities and it takes times to process them to ensure they are delivered to the correct student. We appreciate your understanding regarding this matter. While we will be happy to check for you if you've not received an email, this can delay your package being processed.
If a student is unable to pick up a package they may authorize another student to pick up the package for them by emailing studentpostoffice@depauw.edu. The authorized student will need to present their own DePauw issued ID to retrieve the package.
Packages will be held for no longer than two weeks, then returned to sender. A second email notification will be sent prior to a package being returned. Please remember that a student must present their DePauw issued ID to pick up any package. We do have carts available for borrowing to transport multiple, large or heavy parcels. These may be borrowed by leaving a driver's license, cell phone or other items as collateral.
Interdepartmental mail may be sent to any student via their UB Box. Please bring the item, with a return address, directly to the Student Post Office or place it in any outgoing campus mail location. All mail will be treated confidentially.
Services Offered
Students may drop off any outgoing packages at the Student Post Office that have properly applied prepaid labels. We accept packages for USPS, UPS, DHL and Fed Ex.
Contact Us
The Student Post Office may be reached by email at studentpostoffice@depauw.edu
Concerns or suggestions should be sent to SPOTellUs@depauw.edu.
Our direct number is 765-658- 4367.
The Student Post Office is managed by Angela Thompson - Manager Facility Business Operations and she may be reached at 765-658- 4020 or via email at angelathompson@depauw.edu.