Human Resources Announcements
General Announcements
Send a Note of Appreciation!
Do you know someone that is DePauwsome? Have you seen someone giving 110%? Want to tell a coworker they are a great team member? Send a digital note and tell someone why you think they are GOLD within today!

Use this fillable .pdf note to send a message of appreciation to someone on campus. Simply download the .pdf, fill in the blanks, save to your computer and send it as an attachment!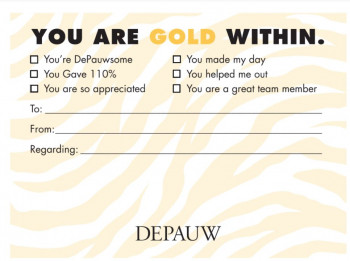 The hours for the Office of Human Resources are Mon-Friday, 8 a.m. to 5 p.m. We encourage you to make an appointment in advance to ensure the staff member you need to speak with is available. Please visit www.depauw.edu/hr for individual staff contact information.
HSA Wellness Incentive Opportunities
The reimagined wellness program offers fun and exciting ways to get healthy with a new incentive menu to help you achieve your wellness goals and earn incentive dollars. Click here to learn more.
GOLD Learning Academy
LinkedIn Learning

LinkedIn Learning is now available for all DePauw students, faculty and staff.

LinkedIn Learning provides access to more than 16,000 tutorials ranging across business, creative and technology topics and that offer up-to-date expertise from subject matter experts in their respective fields. Get links to the full list of course, learn how to register/login and get more information by clicking here.
TIGER W.I.S.E. (Working in a Safe Environment)
Violence Prevention Starts with Community Reporting!
According to USDOL, 4.4 million workplace injuries occur annually. And according to the U.S. Secret Service, 79% of targeted acts of violence involve early-warning threat indicators that are observable and can help prevent those incidents from happening. Whatever your role, you will observe things that others won't notice. It's a matter of being intentional about what you observe and knowing when and how to share it in order to provide for our collective security. The only one-size fits all approach to safety is to focus relentlessly on situational awareness and prevention.