Human Resources Announcements
General Announcements
Send a Note of Appreciation!

Do you know someone that is DePauwsome? Have you seen someone giving 110%? Want to tell a coworker they are a great team member? Send a digital note and tell someone why you think they are GOLD within today!

Use this fillable .pdf note to send a message of appreciation to someone on campus. Simply download the .pdf, fill in the blanks, save to your computer and send it as an attachment!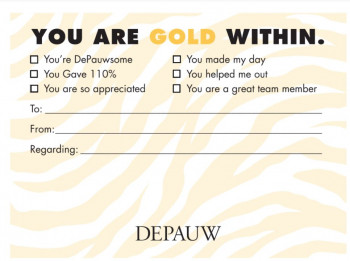 The hours for the Office of Human Resources are Mon-Friday, 8 a.m. to 5 p.m. If you need an in-person meeting, we encourage you to make an appointment in advance to ensure the staff member you need to speak with is available on campus when you arrive. Please visit www.depauw.edu/hr for individual staff contact information.

COVID-19

COVID-19 and Mental Health Resource from Mental Health America

EAP Expanded Support & Webcast Seminars: Cigna is committed to helping employees through the COVID-19 crisis. One way they are doing this is by adding more Employee Assistance Program (EAP) sessions to help support your emotional well-being. Read More.

Employee Resources - Support Resources
Find community sources of support for situations related to domestic violence, alcohol and drug abuse treatment, homelessness and harassment on the Human Resources website. Read More.
Find articles and resources related to the virus that causes COVID-19 on the OurHealthyTigers portal. You will also find NEW features, including an online fitness library and Virtual Kitchen.
HSA Wellness Incentive Opportunities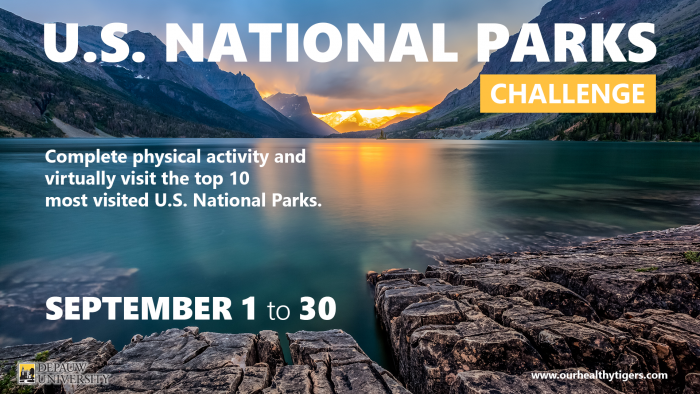 U.S. National Parks Challenge! Log your fitness activities and virtually visit the top 10 visited U.S. National Parks.
Registration opens August 23rd through September 30th. Click here to join.
Challenge dates: September 1st through September 30th
Challenge Goal: Log 600 minutes of fitness activity during the competition.
Qualifying activities for this challenge are fitness activities that you track by logging the minutes you completed.
Individuals who meet the challenge goal will received a US National Parks Challenge badge AND be entered into a drawing for DePauw prizes.
Wellness classes (Group Fitness Activities) via google hangout. Class schedule can be found at https://www.depauwtigers.com/im_rec/Wellness/Wellnessclassesschedule. In order to access the class click the Google hangout link associated with each class in order to join. For any questions please reach out to asaundrapickett@depauw.edu

Weight loss at no cost: Real Appeal is available to you and eligible family members at no additional cost as part of your health plan benefits. Start your transformation with Real Appeal today at enroll.realappeal.com and have your health insurance ID card accessible during enrollment. This program is a weight loss/nutrition program under the HSA Incentive program. Fall Campaign/Weight Loss Tips Flyer

Ready to quit? Over 700,000 Hoosiers want to quit tobacco. Quit Now Indiana can help you quit. Challenge yourself to go tobacco-free for 30 days. Read more…
Coffee Series
TBA
GOLD Learning Academy
LinkedIn Learning

LinkedIn Learning is now available for all DePauw students, faculty and staff.

LinkedIn Learning provides access to more than 16,000 tutorials ranging across business, creative and technology topics and that offer up-to-date expertise from subject matter experts in their respective fields. Get links to the full list of course, learn how to register/login and get more information by clicking here.

The American College Health Association offers a Free webinar series - visit https://www.acha.org/

The ACHA Faculty and Staff Resiliency Task Force has developed a series of presentations on a broad array of topics that professionals can use to improve their own resiliency and well-being.

Leading in Many Dimensions: Staff Expect Self-Care. Your Boss Demands Grit. You Desperately Need Resilience. - Thursday, September 9, 2021
TIGER W.I.S.E. (Working in a Safe Environment)
Violence Prevention Starts with Community Reporting!
According to USDOL, 4.4 million workplace injuries occur annually. And according to the U.S. Secret Service, 79% of targeted acts of violence involve early-warning threat indicators that are observable and can help prevent those incidents from happening. Whatever your role, you will observe things that others won't notice. It's a matter of being intentional about what you observe and knowing when and how to share it in order to provide for our collective security. The only one-size fits all approach to safety is to focus relentlessly on situational awareness and prevention.