Film Studies
Highlights
Professor Ron Dye prepares for the next take in "Mud Lotus," a short film shot in rural Greencastle, written and directed by Professor Chris White and produced and edited by Professor Jonathan Nichols-Pethick
Read More
Flimmaker and DePauw alum, Alex Thompson '12, talks all things film with Sundance award-winning filmmaker, Matthew Johnson
Read More
Media student works with ITAP Video Specialist, Doug Fellegy
DePauw students relax with visiting "The Dirties" filmmaker Matthew Johnson (in front).
Film Studies curriculum is comprised of courses from departments and programs across DePauw's curriculum, like Communication and Theatre, English, Art and Art History, Asian Studies, Black Studies, Women's Studies, and Modern Languages.
Film Studies student serves as script supervisor during a faculty-directed film project
Screenwriting professor, Chris White, talks to students about film adaptation
Princess Grace Award-winner and Princeton Fellowship recipient, Chinonye Chukwu '07, speaks to a DePauw audience about her work as a filmmaker and presents her feature film, alaskaLand.
Read More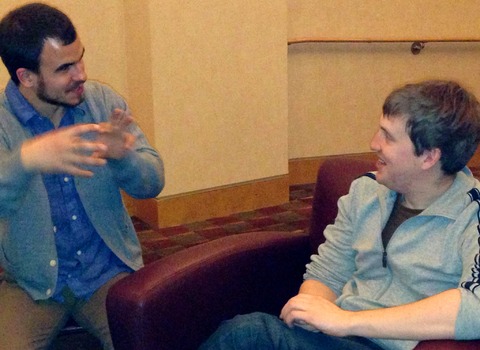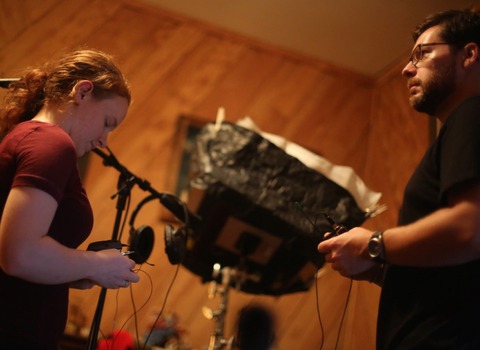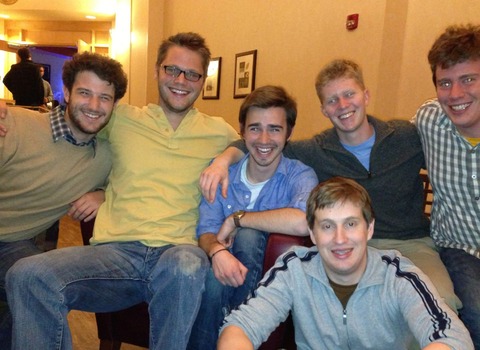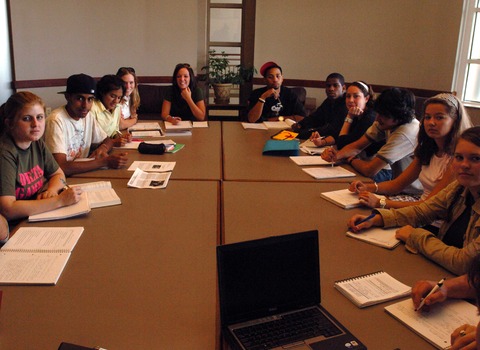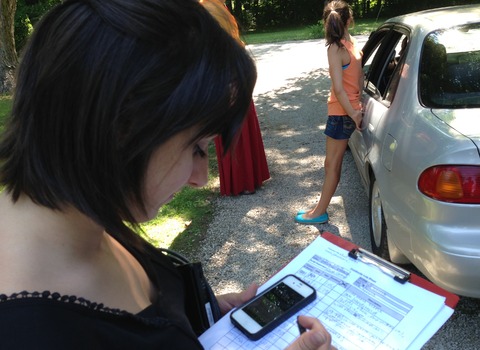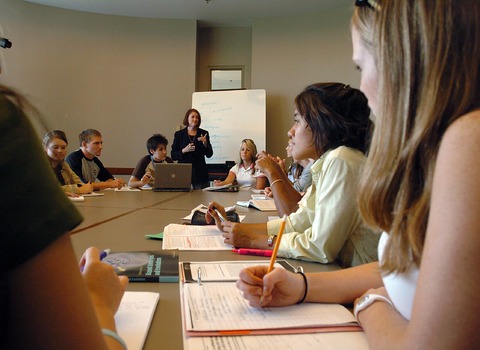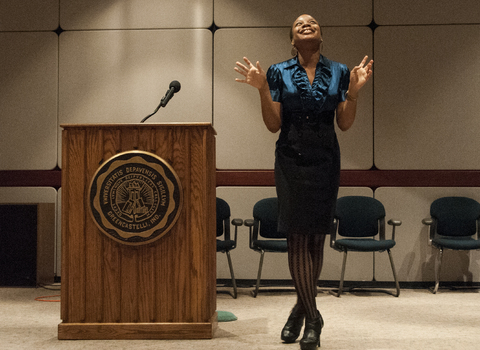 Film, video, and other related media are ubiquitous in contemporary society. Motion pictures combine image and text, creating a powerful medium that often dominates local cultural discourse, even as it is internationally accessible. Film Studies at DePauw cultivates a range of intersecting skills, teaching students to think, write, create, and speak critically about film, which increasingly reflects us, defines us, persuades us, markets us, and tells our stories. Students spend time closely reading and analyzing film texts for aesthetics, meaning and methodology; become versed in film and media theory and critical-analytical models; investigate the cultural, political and economic contexts in which film production takes place; explore various national cinemas, film genres and/or film auteurs; engage with the historical dimensions of film; and sample the process of making their own work--through courses in screenwriting, television production, digital art, photography, and independent study projects.

DePauw Film Studies students benefit from the expertise of professors across the curriculum--in Art and Art History, Asian Studies, Black Studies, Communication, Creative Writing, Literature, Modern Languages, Religious Studies--to supplement core courses taught by professors who make their homes in Film and Media Studies. This rich liberal arts approach allows students to make connections across disciplines and develop a breadth of knowledge that stimulates critical thinking, problem solving, and intellectual and creative insights, whether they become graduate students, teachers, business or media professionals, entrepreneurs, filmmakers, or scholars.