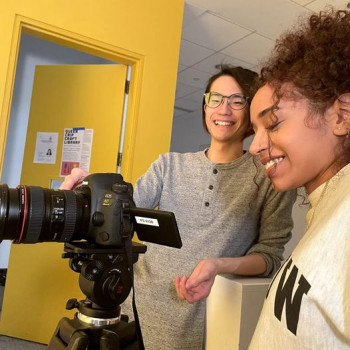 Major and Minor Advising Worksheet
Film and Media Arts
Film, television, and other moving-image media are ubiquitous in contemporary society, combining image and text to create powerful mediums which reflect us, define us, persuade us, market us, and tell our stories. The Film and Media Arts major empowers graduates with rich analytical, screenwriting, and production skills who can work with storytelling technologies in an increasingly multidisciplinary arts and media culture. This dynamic program immerses students in film, television, video, and digital media production, supported by courses in film, television, and new media theory, history, representation, and interpretation, in an interdisciplinary, collaborative, and inclusive learning environment. Students can also study film and media abroad, are privy to exciting internship opportunities, and work with professors and alumni already succeeding in the field.  
Graduates create festival award-winning, critically acclaimed content as directors, writers, and producers, enter graduate study in film and media, teach at various levels, succeed in a business world that is immersed in and communicated through media, hold leadership roles in arts nonprofits, and thrive in media organizations in myriad capacities. Through their creative vision, cultural awareness, and work ethic, our graduates help change the world.
DePauw offers both a major and a minor in Film and Media Arts. Complemented by the graduation requirements defined by the University to fully engage students in the liberal arts model, the major requires nine (9.25) courses. These courses lead students through creative and scholarly explorations that end in a 2-semester senior capstone project which enables them to focus on a project of larger scope, such as a short film, a feature-length screenplay or teleplay, or a scholarly thesis in film and/or other media. The minor requires four (4) total courses in Film and Media Arts. Specific requirements for the major and minor are listed below.
Requirements for a major
Film and Media Arts (Fall 2023)
Total courses required
Nine and one-quarter
Core courses
FLME 100, FLME 195, FLME 429 (.25 credits), FLME 430
Other required courses

One course in Film, Television, and New Media Cultures and Representation
One course in Film and Media History or Theory
One course in Production and/or Writing for the Screen
Two program elective courses in Production, Writing for the Screen, or Critical Studies
One Interdisciplinary Arts Elective/cognate course

Number 300 and 400 level courses
3.25 (including the 1.25 credit Senior Capstone Experience)
Senior requirement and capstone experience
Successful completion of FLME 429 (Senior Capstone Project Prep) and 430 (Senior Capstone Project Seminar).
Recent changes in major
A new curriculum was created in spring of 2022, and the program/major name changed from Film Studies to Film and Media Arts.
Requirements for a minor
Film and Media Arts (Fall 2023)
Total courses required
Four
Core courses
FLME 100
Other required courses
One course from each of the following areas:

Any 100 or 200-level Production course
Any 200-level Critical Studies course (not Production or Writing for the Screen)
Any 300-level course (can be Production, Writing for the Screen, or Critical Studies)

Number 300 and 400 level courses
One