Pursuing Graduate School
Considering Grad Program
Questions
Choosing Grad Program
Grad Study Abroad
Finance Grad School
Prep for Grad School
---
CONSIDERING GRADUATE School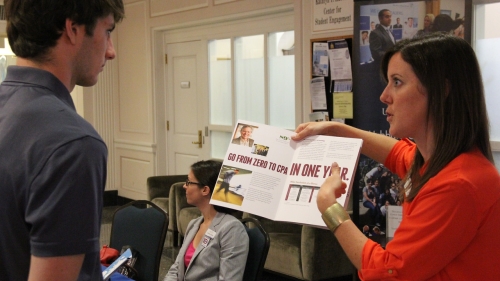 It is important to explore careers and investigate the best approach for developing experience and training for success. Talk with current professionals in your field of interest, your professors, graduate students in your chosen area and Hubbard Center advisers.
• Be aware that many entry-level positions may not require education beyond a bachelor's degree.
Your skills, abilities, talents, network, and experience may be more important than an advanced degree. In some industries, progress into higher level positions requires only sufficient while in others progress requires an advanced degree in addition to the experience
• Certain careers require an advanced degree and specialized training.
If you want to be a lawyer, doctor, college professor or librarian, for example, an advanced degree is necessary. Yet completing this degree (even from an elite institution) does not guarantee that you will secure your desired position. For instance, the job market is currently very tough in the humanities and there has been an abundance of lawyers in recent years.
• The degree you pursue depends on your interests AND aspirations.
It is important to explore careers you are interested in so you can investigate the best approach for developing experience and training for success. Talk with current professionals in your field of interest, your professors, current graduate students in your chosen area and Hubbard Center advisers.
Here are a few things to keep in mind: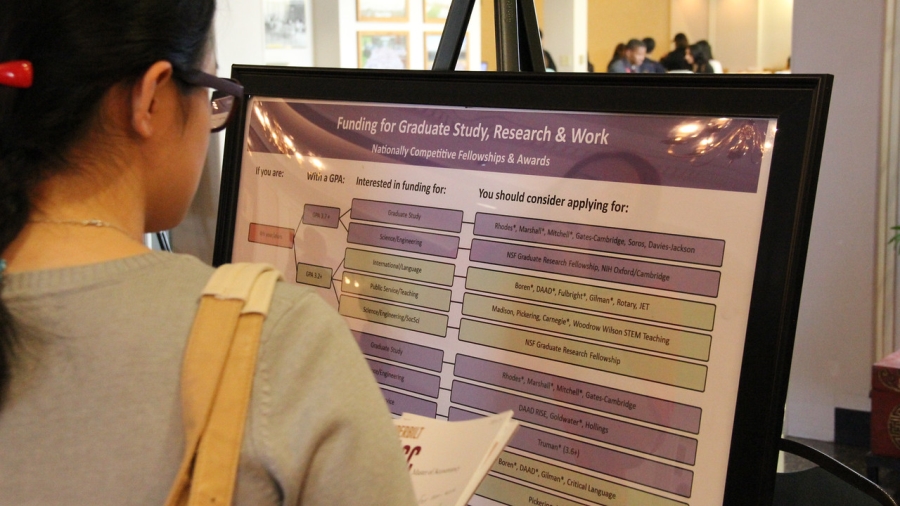 • Talk with current professionals in your field of interest, your professors, current graduate students in your chosen area and DePauw advisers.
• The most important reason to pursue graduate school is because you are fascinated or passionate about a specialized area of study and wish to
---
Questions to Consider
As you start to narrow down your selection, you should ask yourself the following questions:
• What do you want to study?
Be sure the program has the right faculty and resources to support you. As you review programs, it is important to make sure your background and interests are a good match.
• What kind of scholarly community do you want?
Each program has its own culture – how close-knit students are, the size of the program, collaborative environment, etc. The geographical location of the program and who the faculty members also influence the culture of the graduate program. Visit, if possible, to get a sense of the program's culture and if it is a good fit.
• Where do you want to live?
Depending on the degree you pursue, you can be in the program anywhere between 1 and 6 years. Consider your school's location, including climate, geography, diversity, social life/activities, the cost of living, access to health care, proximity to friends and family, availability of part-time work and resources for your scholarly activity.
---
Choosing a Graduate Program
You can learn about potential programs of interest in several ways, including:
• Talking with faculty members in your field of interest. This should be your best first step. Professors are familiar with programs at other universities and have had previous students pursue graduate programs.
• Read scholarly articles by faculty involved in your area of interest. This helps you develop an understanding of current research topics and who the top researchers and faculty are in your area of interest.
---
Graduate Study Outside the U.S.
While some aspects of applying to an overseas program can be easier, you will need to spend more time researching funding, immigration requirements and living arrangements. If you choose to pursue your full degree overseas, there can be a variety of benefits, such as:
• Some countries offer degree programs that are shorter in duration, saving time and money.
While this should not be the motivating factor, it can be a benefit if the content of the program is right for you.
• Some schools outside of the United States accept U.S. Federal Student Aid.
A list of these schools can be found on the www.studentaid.gov website, but you should always inquire to verify this with overseas schools you are considering.
• You can gain language and cultural proficiency.
Studying in a particular location gives you firsthand lessons about that community and its culture. Employers value individuals who can tolerate ambiguity, work across cultural differences and take the in the face of the unknown, all of which are skills necessary to living and studying in another country for an extended period of time.
• There is access to a different range of resources in another style="line-height: 24px;">country.
Either through the school's library collections, the faculty members and their professional networks or the organizations and businesses in that community, there are many resources that can support your area of study.
---
Financing Graduate School
The cost of an advanced degree and available funding varies widely across disciplines. As important as it is to consider the cost of the program and resources for paying for it, it is equally important to consider the landscape for paying off any loans accrued to pay for the program.
• Investigate the kind of financial support available to graduate students in your targeted programs. These can come in the forms of teaching assistantships, fellowships, grants and other graduate student appointments. Graduate programs often list some resources for financial support, but there may be more opportunities if you contact the program directly.
• Don't be shy about asking the program director and current students in the program about things like financial support and work opportunities. Once admitted to a program, inquire about additional funding and work to negotiate a better financial package, fellowship or teaching position. You may find more success in this negotiation if you have multiple acceptances you can leverage, but it is worth trying in any case.
• International students should be sure to ask about opportunities for work and financial aid as it relates to their immigration status.
• Federal student aid through the office of the U.S. Department of Education is a resource that you can consider as well. Whether you currently receive financial support or not, you can contact DePauw's Office of Financial Aid to speak with a counselor there who can guide you through financial aid for graduate study.
• Some competitive fellowships and awards fund graduate study. Visit the Hubbard Center website for fellowships and awards that may be relevant to your proposed area of study.
---
Preparing for Graduate School
Beginning your graduate school search early can be advantageous as you can pursue best programs and funding opportunities such as assistantships and fellowships.
To prepare yourself to be successful in the graduate school process, here are some things you should accomplish:
Your professors are your best resources in helping you identify your personal and scholarly interests and, therefore, in identifying the best graduate programs to pursue.
• Take courses that will fulfill or help with fulfilling the graduate program's degree requirements. and, at least, one-course requiring critical analysis.
Demonstrating the initiative and follow- through, as well as the ability to do independent and thoughtful work goes far in the admission process.
• Complete an independent research, scholarly or artistic project.
Professors can supervise an independent writing or research project and write you letters of recommendation because they know you and your abilities.
• Develop a writing sample.
Try to have the sample reflect questions, issues or work that relate to your area of about all admissions requirements.
---