Computer Science Department
After Depauw
As detailed below, DePauw Computer Science graduates pursue careers with companies that provide hardware, software or services for use in business, education, science, government, entertainment and research. Students may also choose to attend graduate school to further their study.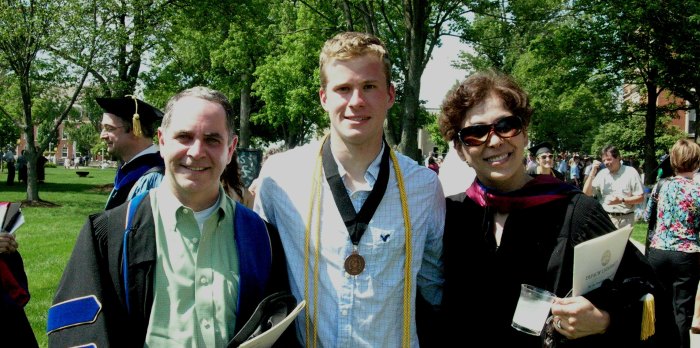 Recent Computer Science graduates work at dozens of companies including Amazon, Google, Apple, Microsoft, etc.
Recent Computer Science graduates have attended many graduate schools including Clemson, Northwestern, University of Illinois, Indiana University, etc.
STUDENT AWARDS
DePauw Computer Science majors excel in the classroom, in athletic competitions, in a variety of leadership positions on campus, and in their graduate study and careers after leaving DePauw. You can read about some recent student and graduate achievements in our News Stories. Use the following links to learn about the academic awards our students have won in their time at DePauw.
Read about the Robert J. Thomas Outstanding Computer Science Senior Award
Read about the Award for Outstanding Service to the Computer Science Department
Read about the Charles and Frances Wylie Condit Science Scholarship
Read about the Computer Science Department Honor Society
SENIOR PROJECTS
As a culmination of the computer science major, each senior completes an independent project. Each student describes his or her project idea in a formal project proposal. Projects typically involve the design, implementation, testing and documentation of a software system that builds on earlier coursework both inside and outside the department. Students are mentored by a faculty member and meet regularly in groups to present their work and to discuss related topics such as the ethical implications of their work.
The abstracts from completed senior projects can be found here.

STUDENT JOBS & RESOURCES
Go here to see information about internships, research experiences, graduate schools, fellowships, full time jobs, national professional organizations, and local professional organizations.
Software
We have software such as Visual Studio, a Linux image for VirtualBox and more available for majors. Download links and more information can be found here.

Student Organizations
Student ACM-W Chapter
DePauw's ACM-W Chapter is affiliated with the international organization, ACM's Women in Computing. ACM-W celebrates, informs and supports women in computing. The DePauw club maintains a private-group Facebook presence at ACM-W@DePauw. The group also hosts an Instagram account, dpuwics.
Robotics Club
Robotics Club aims to establish a platform for students interested in robotics. Members are provided with free tools and parts to work on whatever projects they wish. Meetings Monday and Thursdays at 4:00 in Julian 153.
DePauw Data Science Group
DePauw Data Science Group is dedicated to the study of data science, artificial intelligence, and machine learning at DePauw. We learn about data science topics from experienced students, professors, and even professionals in the field. We also work on our own projects as well as compete in Hackathons and programming competitions.
Computing Opportunities for Students of Color (COSOC)
Created in 2018, COSOC seeks to increase the retention rate of students of color pursuing computer science. The organization establishes a strong foundation and community for future POC [People of Color] interested in computer science. One feature of the organization provides mentorship and support for potential computer science majors, pairing younger students with upperclass students who have experiences to share. Along with mentorship, COSOC hosts opportunities for members to network with partnering companies (e.g Eli Lilly, BCforward) and research institutions such as Indiana University Bloomington. COSOC seeks to change computer science culture at DePauw University, allowing POC to share the advantages that their peers enjoy.
International Computer Science Association (ICSA)
ICSA aims to:
Give international students opportunities to network
Help international students with their internship and job applications
Provide realistic career information
Help international students create their portfolios
Help international students learn key technical skills through complex weekly projects