Old Gold Weekend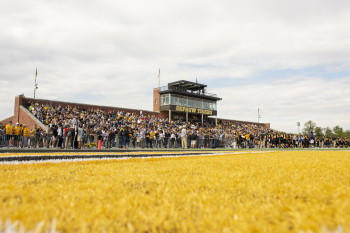 Old Gold Weekend has evolved since its origins in 1907 as a way to unify classes to a revamp in 1919, becoming the event that is it today as DePauw's version of homecoming.
We invite our alumni and friends to please save the date for October 1 - 3, 2021, to celebrate Old Gold Weekend along with various Presidential Inauguration events scheduled to occur leading up to and during the weekend.
A tentative schedule of events can be found below and additional information will be available in late summer 2021; be sure to check back often!
Old Gold Weekend | Schedule of Events
Friday, October 1, 2021

2 p.m.
Inauguration of President Lori S. White, Ph.D., Holton Academic Quadrangle
4 p.m.
Reception, Green Center for the Performing Arts Great Hall

Saturday, October 2, 2021

11 a.m.
Inaugural cookout, Hamilton Park
12 p.m.
DePauw Men's Soccer vs. College of Wooster, Reavis Stadium
1:00 p.m.
DePauw Football vs. Hiram, Blackstock Stadium
2:30 p.m.
Women's Soccer vs. College of Wooster, Reavis Stadium