Old Gold Weekend
Special events celebrating Old Gold Weekend focused on bringing alumni together with our campus community.
Old Gold Weekend has evolved since its origins in 1907 as a way to unify classes to a revamp in 1919, becoming the event that is it today as DePauw's version of homecoming.
We invite our alumni to please save the date for October 9 - 11, 2020, to virtually celebrate Old Gold Weekend.
For information about the history of the event, please click here.
---
Join us for an Old Gold All-Alumni webcast with President Lori S. White, the 21st President of DePauw University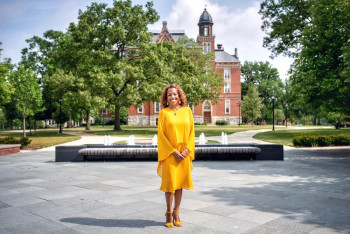 Please join President Lori S. White for an Old Gold all-alumni webcast.
President White will discuss her first months as president and taking the lead at DePauw during a pandemic.
She will talk about the challenges so far, as well as her hopes for the coming year, and will answer questions submitted by alumni.
The program will be moderated by Alan P. Hill '81, vice president for student academic life.
Old Gold All-Alumni Webcast
Sunday, October 11, 2020 | 6:30 p.m. (EDT)
Register online by clicking here. Event details will be included in your confirmation email. The webcast will be available on the DePauw University YouTube channel.