Old Gold Weekend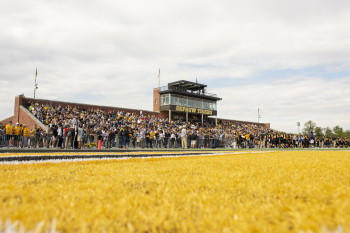 Old Gold Weekend has evolved since its origins in 1907 as a way to unify classes to a revamp in 1919, becoming the event that is it today as DePauw's version of homecoming.
We invite our alumni and friends to please save the date for October 1 - 3, 2021, to celebrate Old Gold Weekend along with various Presidential Inauguration events scheduled to occur during the weekend.
A schedule of events can be found below; we hope that you will join us on campus for these events.
IMPORTANT EVENT NOTICE: All individuals coming to campus to participate in Old Gold Weekend activities and other events will be expected to follow all Community COVID Guidelines.
Of particular note, guests will be asked to follow DePauw's Masking policy, which includes a requirement to mask at all large indoor gatherings (50 or more).
As always, please review the Community COVID Guidelines for the most up-to-date information regarding campus policies, as they are subject to change.
Old Gold Weekend | Schedule of Events
Friday, October 1, 2021

2 p.m.
Inauguration of President Lori S. White, Ph.D., Holton Academic Quadrangle
4 p.m.
Reception, Green Center for the Performing Arts Great Hall

Saturday, October 2, 2021

11 a.m.
Inaugural cookout, Hamilton Park
12 p.m.
DePauw Men's Soccer vs. College of Wooster, Reavis Stadium
1:00 p.m.
DePauw Football vs. Hiram, Blackstock Stadium
2:30 p.m.
Women's Soccer vs. College of Wooster, Reavis Stadium